Investors' problems can be solved with dialogue
Exclusive | Yang Houlan
The problems concerning some Chinese enterprises investing in Myanmar can be solved through negotiation and dialogue because what China has invested will not only benefit itself, but also Myanmar people and society, the Chinese ambassador to Myanmar said.
"The troubles that some Chinese enterprises encounter here have to do with the changes in Myanmar's social and political environment, which is in transition, and Chinese companies' lack of experience in coping with the new challenges they face," Yang Houlan said.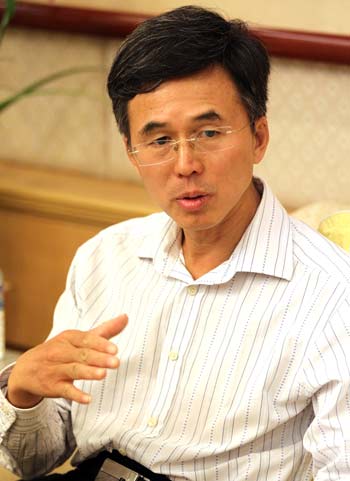 Yang Houlan, Chinese ambassador to Myanmar
Yang was appointed in late March.
Referring to the controversial Letpadaung copper mine project operated by a Chinese company and the subsequent report of an inquiry commission, Yang said he saw a positive signal in the report's findings, which showed Myanmar's willingness to protect the interests of investors.
"Based on China's experience, introducing foreign capital has a positive effect on helping to boost a country's economic growth. But in order to attract more investment from abroad, it is important to provide a good environment," he said.
Increasing cooperation in all fields and achieving win-win results are the objectives of both sides, as the two economies are complementary to each other, he added.
China is Myanmar's largest trading partner and foreign investment source. Its investments are mainly in areas such as mineral resources, agriculture, energy and infrastructure.
"The investment from China not only benefits us, but also supports the development of Myanmar society. This is what we always pursue," he said.
He cited the case of a China-backed nickel mine project in Myanmar's Dagon Hill. Livelihoods improved in the local community after it was launched in 2009, and it helped transform a remote village into a township with a bustling market. The project added about 1,000 jobs, the ambassador said.
"But there are complaints in Myanmar that some of the projects are not transparent. We should try to let them know what we are doing and what measures we are taking with regard to environmental protection, as well as how these projects will improve the development of the society," Yang added.
Because the two countries share a 2,200-km border and have much in common, Myanmar's steady development is in China's interest, he said.
The two countries also have a strong wish to promote non-governmental exchanges and people-to-people contacts through different channels.
Both countries have been developing the friendship of paukphaw, a term in the Myanmar language to describe a brotherly relationship, since ancient times, and "both sides now recognize the need to bolster it in the new era", Yang said.

Editor's picks