China's 1st NBC maritime rescue team unveiled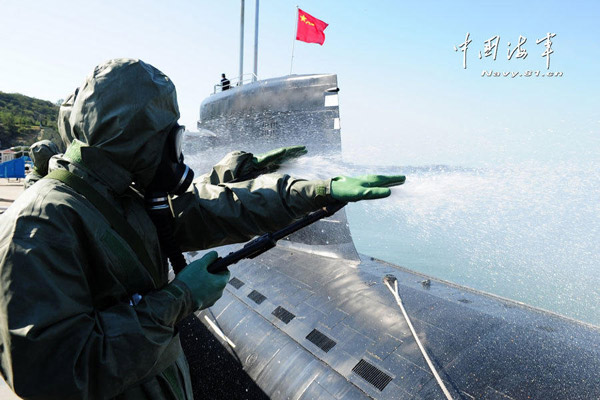 Soldiers of China's first maritime nuclear, biological and chemical emergency rescue team are seen during a drill in this undated photo. [Photo/chinamil.com.cn] 
China's first maritime nuclear, biological and chemical emergency rescue team grabbed the spotlight in a recent drill off the Yellow Sea after it showed how to handle a toxic gas leak.
They sampled and examined the leaking gas, blocked the leaking part of the ship, and disinfected the ship and surrounding waters.
The rescue team, affiliated with China's North Sea Fleet, was designed to detect radioactive substances and conduct search-and-rescue missions in affected areas on the sea, according to People's Daily.
The rescue team handled more than 10 emergencies since its establishment in response to the Fukushima nuclear disaster in Japan in March 2011. It was assigned a two-month program, its first mission, to examine China's affected waters after the Fukushima incident.
The team is trying to safeguard areas near chemical factories, radioactive labs and nuclear power projects by working with local governments.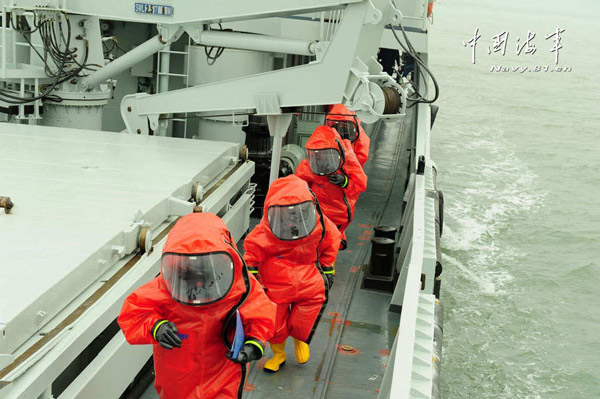 A undated photo shows soldiers of China's first maritime nuclear, biological and chemical emergency rescue team rushing to positions on a warship. [Photo/chinamil.com.cn]