Timeline of China's manned space program
• Shenzhou I (Nov 20-21, 1999)
Shenzhou I is the first unmanned test spaceship to be launched under the China manned space program. The flight lasts 21 hours. It is also the first flight test for the Long March-2F carrier rocket.
• Shenzhou II (Jan 10-16, 2001)
China's second unmanned spaceship, Shenzhou II, is in space for nearly seven days.
• Shenzhou III (March 25-April 1, 2002)
The third unmanned spacecraft has a human metabolism simulating device, medical monitors and radiation environment monitoring equipment. Unlike the two previous space vehicles, the spacecraft has emergency rescue functions during the standby and launch periods.
• Shenzhou IV (Dec 30, 2002-Jan 5, 2003)
The fourth unmanned flight is in space for six days and 18 hours. It unfolds solar cell arrays, changes orbit and conducts orbit maintenance.
• Shenzhou V (Oct 15-16, 2003)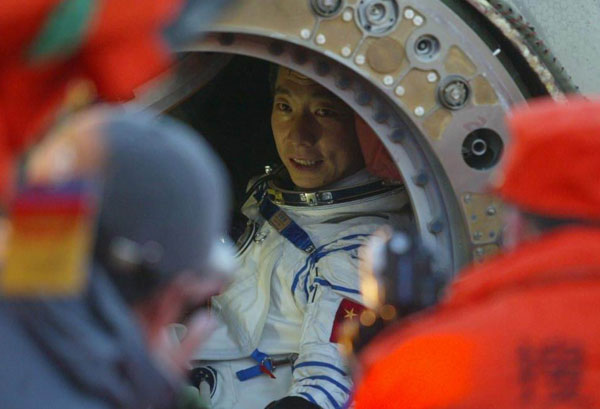 The first Chinese astronaut, Yang Liwei, goes into space on a trip that is 21 hours and 23 minutes long, marking a milestone in China's space history.
• Shenzhou VI (Oct 12-17, 2005)
The second manned space flight sends Fei Junlong and Nie Haisheng on China's first "multi-person and multi-day" space flight.
• Shenzhou VII (Sept 25-28, 2008)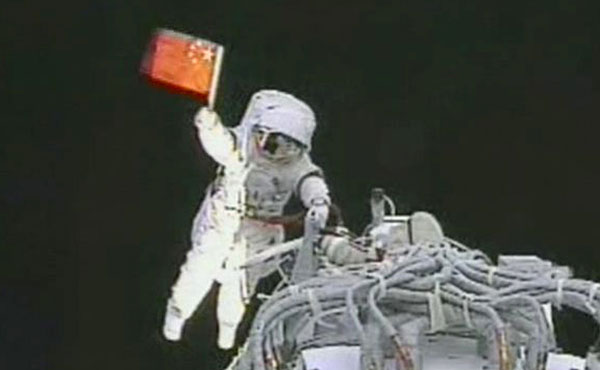 The third manned spacecraft sends Zhai Zhigang, Liu Boming and Jing Haipeng into space. Zhai accomplishes the first space walk, making China the third country to independently master the key technologies of extravehicular activity.
• Shenzhou VIII (Nov 1-17, 2011)
The unmanned spacecraft completes China's first unmanned space rendezvous and docking with the unmanned Tiangong-1 space module.
• Shenzhou IX (June 16-29, 2012)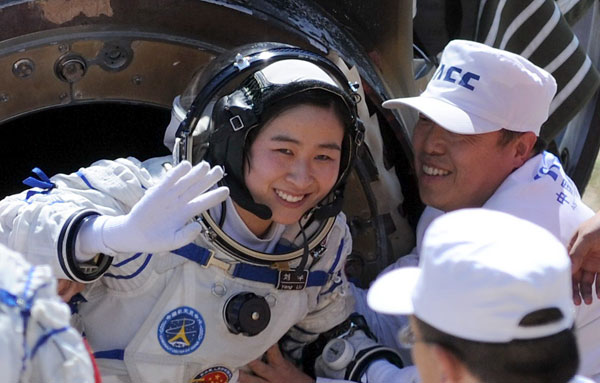 The fourth manned spacecraft carries Jing Haipeng, Liu Wang and Liu Yang into orbit. Liu Yang is the first Chinese woman in space. The mission conducts an automated docking, and the country's first manual docking with the unmanned Tiangong-1 space module.
• Shenzhou X (June 11-26, 2013)
The fifth manned spacecraft carries Nie Haisheng, Zhang Xiaoguang and Wang Yaping into space. Wang is the second Chinese woman in space and the first to give a lecture from space to school students. The astronauts will also conduct two more space docking tests, one automatic and one manual.