Gutierrez underscores strategic trust in Sino-US ties
BEIJING - Former US Secretary of Commerce Carlos Gutierrez has urged enhancing strategic trust and deepening economic cooperation between China and the United States, saying China is more a collaborator than a competitor for the US economy.
Speaking to Xinhua after a gathering of Chinese and US business leaders and former officials held on Wednesday, Gutierrez said a lack of strategic trust is the main challenge in bilateral relations.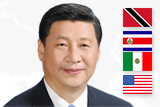 "We often don't understand China very well and then Chinese companies and government officials may not understand the US system very well. I think that leads to misunderstandings and misunderstandings can lead to a lack of trust," Gutierrez said.
He said an upcoming meeting between Chinese President Xi Jinping and US President Barack Obama will be opportunity for the two leaders to build a personal relationship, which he said will play an important role in  bilateral ties.
"What makes this meeting is so special is that it's going to be in an informal setting. The two leaders will have the opportunity to spend time together alone," said Gutierrez.
He emphasized tolerance in building trust between the two countries, saying China and the United States should be tolerant of their differences and focus on the fact that they have a lot of similarities.
He also called for more efforts to help the two nations better understand each other, including promoting tourism and education exchanges.
There is a great deal of room for the world's two biggest economies to step up cooperation in areas like energy and financial services.
"Sometimes our companies will compete, but that is normal, that's part of the marketplace. The important thing is that we are friends, allies and collaborators," he said.
The United States and China, the world's two biggest economies, are also each other's second-largest trade partners. Trade between the two countries has ballooned over the past three decades to hit around 500 billion US dollars in 2012.
Gutierrez said the United States should "be careful in being too prescriptive" in terms of what it wants China to do regarding its exchange rate policy.
He said he believes that China has a plan for reforming the exchange rate mechanism and will execute the plan when the time is right, adding that the United States should trust China.
"If the United States makes it a central issue, I believe it could have unintended consequences," said Gutierrez. "We would like to see China's currency become fully convertible, its value to be market-based and market-driven, but that will come at the right time."
He also rejected concerns that US efforts to revitalize its manufacturing industry will cause a retreat of investment and jobs from China back to the United States, saying the move will not create too much competition between the two.
The revitalization of the manufacturing industry in the United States will be reflected mainly in new products, new technologies and new innovation and will not dramatically change the service-dominated structure of the US economy, Gutierrez explained.
He expressed optimism for the medium-term prospects of a bilateral free trade agreement (FTA) between China and the United States.
"I think the important thing is that two years ago no one was talking about an FTA, and now there's a lot of discussion about when China and the United States can do an FTA," he said.
He said a bilateral investment treaty that is currently being negotiated by the two countries is a foundation for an FTA.
The topic is expected to be discussed, though perhaps not at length, during the upcoming meeting between Xi and Obama, Gutierrez said.
The meeting is scheduled for June 7 and 8 in Rancho Mirage, California.