Nanning hosts China-Southeast Asia people-to-people dialogue
The China-Southeast Asia High-level People-to-People Dialogue was held in Nanning, Guangxi Zhuang autonomous region, on Monday, aimed at building a platform for non-governmental exchanges and cooperation.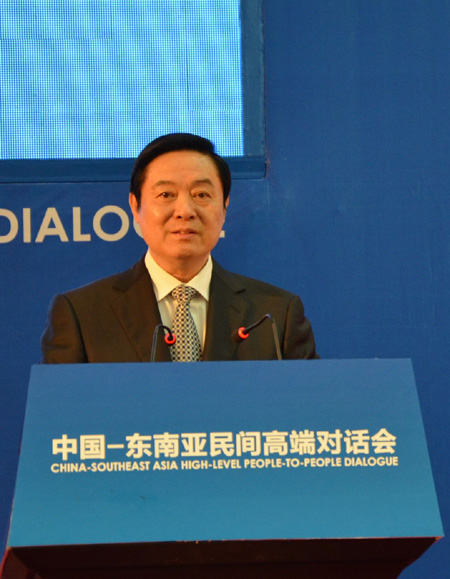 Liu Qibao, member of the Political Bureau and Minister of the Publicity Department, delivers a keynote speech at the opening ceremony of the China-Southeast Asia High-Level People-to-People Dialogue in Nanning, June 3, 2013.[Photo/chinadaily.com.cn]
Liu Qibao, member of the Political Bureau and Minister of the Publicity Department, delivered a keynote speech on "Promoting win-win development by gathering people's wisdom" at the opening ceremony.
The event, organized by the China NGO Network for International Exchanges (CNIE), hosted hundreds of political leaders, representatives from non-governmental organizations, enterprises and media institutions from 11 Southeast Asian countries.
Liu was joined by other speakers including Wiranto, Chairman of the Hanura Party of Indonesia and former Commander of the Indonesian National Armed Forces, Li Jinjun, Executive Vice-President of CNIE, and Peng Qinghua, Secretary of the CPC Committee of Guangxi Zhuang autonomous region.
The theme of this dialogue was "Peace for development and Cooperation for Win-Win - Common Dream and Aspiration of the People."
China and Southeast Asian countries are neighbors, close in blood and culture, and are sharing more and more common interests, Liu said in his speech.
The world is changing in a complex way, which is pushing for a strong trend of pursuing peace, development, cooperation and win-win situations. China hopes to work with Southeast Asian people to achieve long-lasting peace and mutual prosperity, he added.
Liu also made four proposals on developing new-type relationships with neighboring countries. First, stick to mutual trust and strengthen dialogue. Second, stick to cooperation for a win-win situation and share the development outcome. Third, stick to understanding and push mutual progress. Lastly, stick to people-to-people friendship and strengthen the basis for multilateral relationships.
The organizer hosted two panels simultaneously Monday afternoon. One panel discussed how to forge consensus for better China-ASEAN relations, and the other explored new measures for concrete cooperation.
The two were followed by a special seminar on "Government and NGOs: Synergy for regional Peace and Development."
On Tuesday, the distinguished guests and representatives will travel to Fangchenggang, a key port city of Guangxi. They will visit Dahai Grain and Oil Industrial Co., Ltd, a joint venture invested in by Singapore Wilmar International Co.,Ltd and Fangchenggang Harbor, the largest in the western region.