Rubber ducks make surprise appearance
Yellow rubber ducks of different sizes appeared in several mainland cities marking Children's Day. The appearance of the ducks follows the appearance of huge rubber duck that was displayed in Hong Kong last month.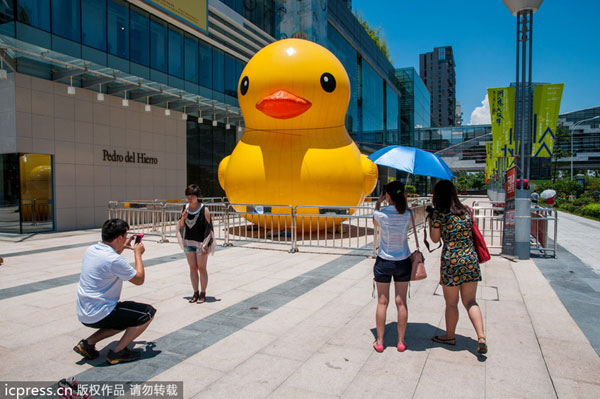 Pedestrians take photos of an inflatable yellow duck, which is believed to be a clone of the one in Hong Kong, at a shopping mall in Shenzhen city, South China's Guangdong province, May 30, 2013.[Photo/icpress.cn]
On June 1, Children's Day, a rubber duck was seen floating serenely on a lake in Wuhan, Hubei province.
The duck, about 2 meters high, is a smaller replica of the huge rubber duck created by Dutch artist Florentijn Hofman which caught the attention as it sampled the waters of Victoria Harbor in Hong Kong on May 2.
That duck is much bigger, 18 meters long, 15 meters wide and high.
A company that makes inflatables in Guangzhou has received a number of orders for rubber ducks in recent days, Changjiang Daily reported.
Most of the rubber ducks were ordered by real estate developers, the newspaper said.
The mini rubber duck in Wuhan was ordered by a real estate developer, who declined to comment over intellectual rights concerning the duck.