School administration needs improving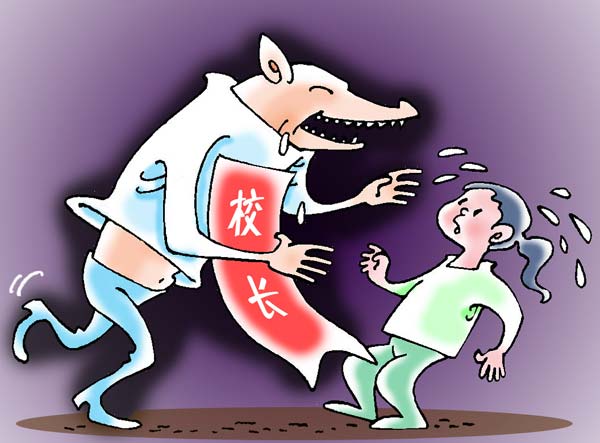 Cartoon by Wu Zhiru 
Media reported Yang Shifu had similar behavior many years ago, but no one reported.
Teachers are expected to educate children well and set example for them, but it's not rare to see children injured or abused by teachers. This exposes the loopholes in school management system.
If the school has strict standards in employing teachers or if they have proper evaluation system, this guy would have been exposed and punished earlier.
However, schools focus too much on teachers' abilities in improving students' scores and omit the teachers' morality. Yang is reported to have double personalities as he seems a responsible teacher to other colleagues but actually students hate him privately.
If school has evaluation system from students, this kind of disguised teacher will be kicked out.
Good news is the education authorities have realized this problem and are improving morality evaluation system.
Related stories:
Teacher detained for allegedly molesting students
Police have detained a primary school teacher for allegedly molesting female students in Jiahe county, in central China's Hunan province, the local government told Xinhua on Tuesday.
Kindergarten teacher accused of cutting child's nose
A kindergarten teacher has been dismissed from her job after being accused of cutting a child's nose with a pair of scissors, Oriental Morning Post reported on Thursday.
'9 in 10 kindergarten teachers unqualified'
Parents are questioning the professionalism of kindergarten teachers after it emerged that more than 90 percent of childcare workers in Jiangsu province are unlicensed.
Teachers ordered to raise moral awareness
The Ministry of Education has issued a statement ordering higher education institutions to strengthen moral education for teachers.