Graffiti allowed at Buddha statue
First there was public outrage after a Chinese tourist daubed graffiti in a temple in Egypt, now one major Chinese scenic spot has hit back by officially allowing visitors to etch their names at the site.
In a puzzling move, The Zhongyuan Buddha scenic area in Central China's Henan province, which has the tallest Buddha statue in the world, began handing out boards, stones and pens on May 28 for people to leave their mark.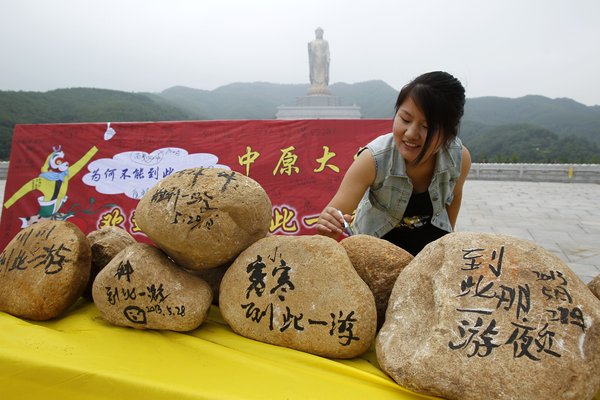 A woman leaves a message on a stone provided at the Zhongyuan Buddha tourist site, situated in Lushan county, Henan province, May 28, 2013. [Photo/CFP]
The move has aroused a hot discussion in cyberspace as Chinese tourists leaving graffiti on cultural relics has been a fierce debate of late.
However, visitor Shang Xiaopeng from Ruzhou city, pointed out, "This is funny and will stop people from vandalizing historic sites.".
Earlier this month, seven Chinese characters reading "Ding Jinhao paid a visit here" were found carved into a 3,000-year-old cultural relic in Luxor, southern Egypt.
Ding Jinhao's act was exposed online after another Chinese tourist who visited the same temple posted a photo of the graffiti on his micro blog, sparking a firestorm online in which Ding was exposed.