China, India can be good neighbors, partners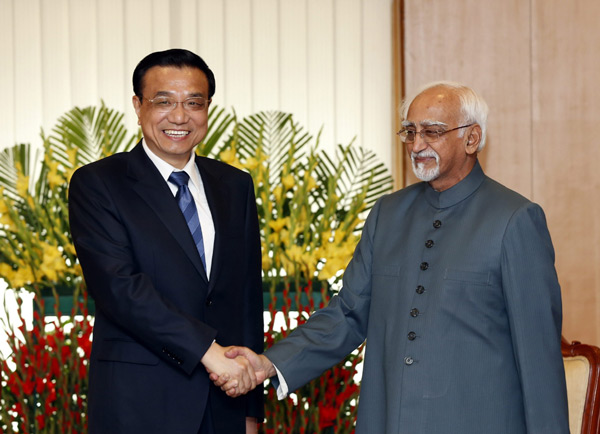 Chinese Premier Li Keqiang meets with Hamid Ansari, vice president of India during Li's visit to India in New Delhi, May 20, 2013. [Photo/Xinhua] 
BEIJING - As major developing economies living next door to each other, China and India have ample reasons and common desire to be good neighbors and partners despite disputes.
Leaders of both countries have long recognized the strategic importance of China-India ties and have shown firm will to carry on win-win cooperation.
The ongoing visit by Chinese Premier Li Keqiang to India again demonstrates the high-level consensus of both sides to try to bridge the gaps and work for smoother and broader cooperation.
"There are far more shared interests between China and India than the differences that we have," Li said on Monday.
Indian Prime Minister Manmohan Singh echoed Li's view, saying India and China are partners, not opponents.
Numerous converging interests are pulling the two Asian giants closer.
Perhaps the pivotal point is that both countries need a peaceful and stable environment for development when they are entering a crucial moment of national rejuvenation in their history.
The recent military standoff along disputed borders in the Himalayas has ended with peace, with laudable diplomatic efforts from both sides.
To ensure a peaceful environment for more than 2.5 billion people combined, China and India have strived for an early solution to the border disputes. The two countries agreed Monday to improve the various border-related mechanisms and make them more efficient, a meaningful step forward.
Meanwhile, it serves the interests of both sides to make sure the border disputes do not damage their overall friendly ties or derail cooperation in other areas.
As the world's two largest emerging markets and most populous countries, China and India have enviable prospects in trade and economic cooperation.
They have agreed to address trade imbalance, boost investment, and create closer links between the two major markets.
On the world stage, China and India are natural partners in reshaping global rules on climate change, trade and finance.
The two biggest developing countries have already carried out effective cooperation within the frameworks of the Group of 20 and BRICS to push for a fairer multipolar world.
As Li and Singh have said, the rise of China and India is good for the world. The world has enough space to accommodate the growth aspirations of both countries.
New Delhi can be assured that China will not seek regional or global hegemony. Rather than a threat to India, China's robust economic growth and growing national strength offer opportunities for the promotion of peace and prosperity in Asia.
Converging interests have made China and India strong partners. The two countries have agreed to shelve their differences and engage in a forward-looking strategic and cooperative partnership.
They now have a common goal in sight -- to build a stronger Asia and a more prosperous world.
In a multipolar world, major powers need to learn to accommodate each other. China and India have a good chance to set an example to the rest of the world.
We cannot choose neighbors, but we can choose what kind of neighborhood we would like to live in.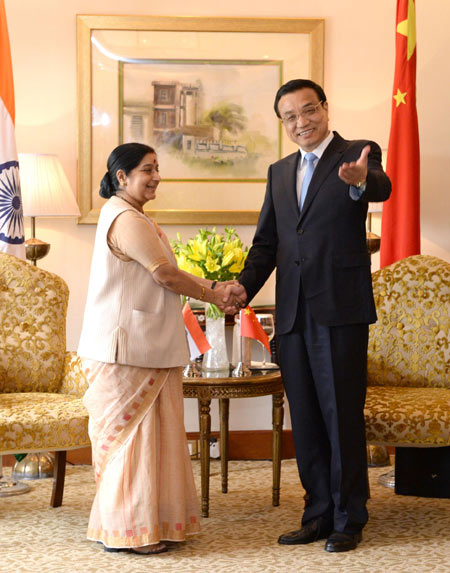 Chinese Premier Li Keqiang meets with Sushma Swaraj, opposition leader in the lower house of parliament in New Delhi, May 20, 2013. [Photo/Xinhua]