Heavy rain kills 2 in S. China
GUANGZHOU - Heavy rain that has fallen since Saturday has killed two people in South China's Guangdong province, bringing the death toll resulting from rainstorms to 36 so far this year, officials said Tuesday.
As of 7 pm Monday, over 16,000 residents had been evacuated in the cities of Meizhou and Chaozhou, according to He Guoqing, executive deputy director of the provincial flood control and drought relief office.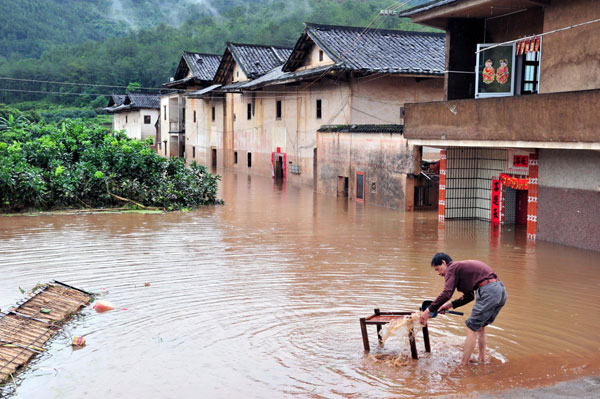 A villager cleans furniture in Baokeng village of Meixian county in South China's Guangdong province, May 19, 2013. [Photo/Xinhua]
The lives of more than 320,000 people were disrupted by rain-triggered floods, He said, adding that 1,400 houses were destroyed as well.
Affected by the heavy rain, water levels on mid-and small-sized reservoirs exceeded warning levels. Water is currently being discharged from the Changtan Reservoir in Meizhou's Jiaoling county.
The heavy rain is the second round to hit the province in May. The first round left 34 people dead and 11 others missing.
The provincial meteorological station said Tuesday that more heavy rain is expected for Thursday and Friday. Experts have warned that the continued rain may result in flooding and landslides.