Osaka mayor's defense of sexual slavery angers Beijing
China on Tuesday expressed shock and indignation at a Japanese politician's statement that the Japanese military's World War II-era sex slaves served a "necessary" role by keeping troops in check.
Foreign Ministry spokesman Hong Lei said the conscription of the sex slaves, known as "comfort women", was a grave crime committed by the Japanese military and a major human rights issue that concerns the victims' personal dignity.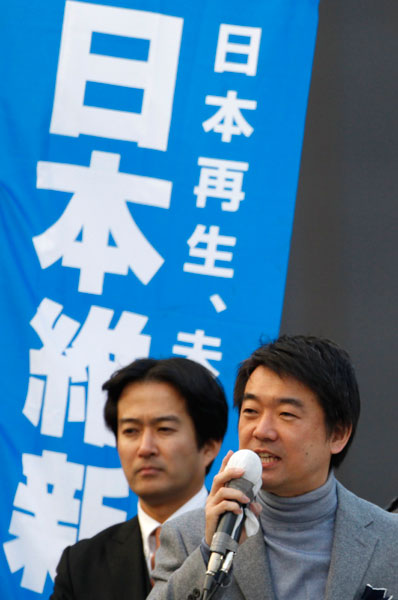 Osaka mayor Toru Hashimoto delivers a speech on Dec 9, 2012. China expressed outrage on Tuesday over Hashimoto's remarks on "comfort women". Issei Kato / Reuters
The remarks by Osaka Mayor Toru Hashimoto flagrantly challenge historical justice and the conscience of humankind, Hong said at a regular news conference.
"How Japan treats its past will decide its future," he said, adding that the country's neighbors, as well as the international community, will have to wait to see what choice Japan makes.
Analysts said several prominent Japanese politicians' recent remarks that fly in the face of historical facts are a result of the rise of Japan's extreme nationalism and its troubled domestic economic situation.
"To maintain discipline in the military, it must have been necessary at that time," said Hashimoto, also the co-leader of the national Japan Restoration Party.
"For soldiers who risked their lives in circumstances where bullets are flying around like rain and wind, if you want them to get some rest, a comfort-women system was necessary. That's clear to anyone."
He also said that there isn't clear evidence that the Japanese military coerced women into sexual slavery.
Zhou Yongsheng, an expert on Japanese studies at China Foreign Affairs University, said it is an undeniable historical fact that the Japanese military forced a large number of women, including those from China, into sexual slavery for Japanese soldiers during World War II.
'Supportive of crimes'
Hashimoto said what he did was to win support from conservative forces and attract public attention for the upper house election in July, Zhou said.
The Japanese government distanced itself from Hashimoto's comments, AFP reported.
Japan's government spokesman and Chief Cabinet Secretary Yoshihide Suga refused to comment directly on Hashimoto's remarks, but said: "The government's position on the comfort-women issue is that, as I repeatedly said here, we feel pains toward people who experienced hardships that are beyond description, and (this) administration shares the view held by past governments."
Hashimoto's comments, in addition to a series of remarks of this kind made by influential Japanese politicians recently, have raised the ire of neighboring countries that suffered from Japan's wartime aggression.
A South Korean official said it was disappointing that a senior Japanese official "made comments supportive of crimes against humanity and revealed a serious lack of a historical understanding and respect for women's rights", The Associated Press reported.
Meanwhile, policy chief of Japan's ruling party, Sanae Takaichi, vowed on Sunday to keep paying homage to the Yasukuni Shrine that honors war criminals, despite anger and diplomatic protests by China and South Korea.
What is behind the popularity of these talks is the rise of militarism among Japan's right-wing forces and their intention to rewrite history, said Gao Haikuan, vice-president of the China Society of the History of Sino-Japanese Relations. Japanese Prime Minister Shinzo Abe's encouragement of extreme nationalism and the revival of militarism has something to do with this, Gao said.
Wang Xinsheng, a professor of Japanese studies at Peking University, said another reason for the popularity of rewriting history is Japan's confrontations with other Asian countries.