Tougher punishments for polluters called for
Environmentalists say low fines are not deterring big companies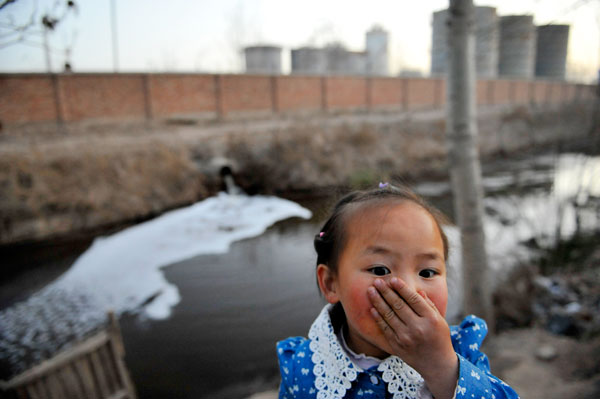 A girl covers her nose and mouth outside the sewage outfall of the Tairui Pharmaceutical in Shangqiancheng village of Yinchuan, capital of the Ningxia Hui autonomous region. Local residents have been complaining that three large pharmaceutical companies located in Yinchuan's suburbs are polluting air and water. Wang Peng / Xinhua
The punishments handed down by the Ministry of Environmental Protection in several cases involving pollution and unlawful practices show the government's determination, but they are not strong enough to deter further violations, environmental advocates said.
The ministry on Tuesday revealed it had punished local governments and State-owned companies that failed to reach their 2012 emission reduction requirements.
It named several companies belonging to a host of large State-owned enterprises, such as China Huadian Corp, China National Petroleum Corp and China Petroleum and Chemical Corp.
Prior to the move, the ministry said on Thursday that a special inspection of the groundwater pollution in six provinces of North China resulted in fines for 88 companies out of the nearly 26,000 that were examined during the 40-day campaign. But the average fine was less than 70,000 yuan ($11,400).
"I support the government disclosing more information about such unlawful behavior by big companies, because they usually emit large quantity of pollutants, posing more threat to the environment," said Ma Jun, director of the Institute of Public and Environmental Affairs, an environmental NGO.
He said the weak fines will not deter companies from polluting the environment, but information disclosure may cause public concern, which will put much greater pressure on them.
"Seen from the ministry's recent measures, we can see that more environmental information is being disclosed by the government. And it is also responding more actively to the hot environmental issues exposed online," said Ma.
Chai Fahe, vice-president of the Chinese Research Academy of Environmental Sciences, told China Daily that under the current law, the upper limit for fines in the cases was 500,000 yuan.
He admitted that the fines are not high enough to act as deterrents, but added that both the Environmental Protection Law and the Atmospheric Pollution Prevention Act are in the process of being amended, and that some people are even calling for amendments to the Water Pollution Control Act, which was just renewed in 2008.
"I believe the upper limits of the fines for causing pollution will be significantly raised in the new versions of the laws, to a level at least high enough to end the weird situation that it costs more to obey the laws than to break them," he said.