World landscape expo opens in NE China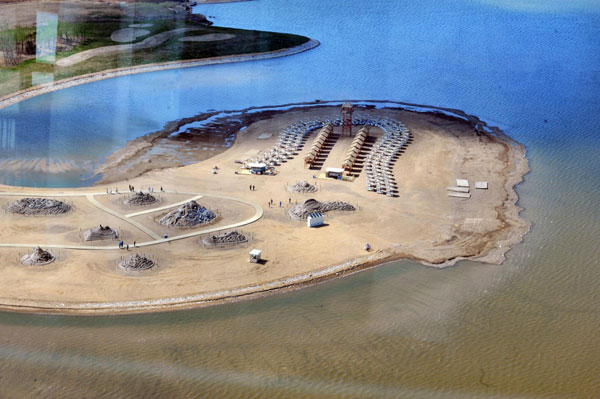 Photo taken on May 10, 2013 shows a sand sculpture exhibition park for the coming 2013 World Landscape Art Exposition in Jinzhou City, Northeast China's Liaoning province.The expo, which will kick off on May 10, 2013, is the result of the first cooperation by the Interntaional Association of Horticultural Producers and the International Federation of Landscape Architects. It is also the first world horticultural exposition to be held in the salt marshes after reconstruction and redevelopment.[Photo/Xinhua]
JINZHOU - The 13th World Landscape Art Exposition kicked off in Northeast China's Liaoning province on Friday, attracting more than 300 artists from home and abroad.
The expo will showcase 20 of the best-designed gardens that were selected from 103 works worldwide, the expo's organizers said.
Chris Bentley, from New Zealand, is exhibiting "Wetland Waka."
"One theme of my garden is about water being an essential part of all live things," he said.
The garden has ponds and wetlands to collect rainwater, which is then channeled through waterways to feed the surrounding eco-system.
Having opened Boffa China in Shanghai in 2010, Bentley believes his design, which features the recycling of rainwater has great potential.
"As China continues to urbanize, it will have to look at clean air and clean water, and gardens and parks will become very important in the future planning of cities," Bentley said.
Flowers are also prominent at the event, with 30 million of them in "Garden on the Sea," which was created by reclaiming salt-affected soil from foreshores and disused shrimp farms.
The reclamation project took two years to complete, using 20 million cubic meters of sand and soil, and multiple desalting and wind-proof technologies, according to Liao Huige, vice director of the park's construction project.
The Taiwan Grand Garden is an indoor garden displaying hundreds of butterfly orchids.
"Taiwan leads the world in the cultivation of butterfly orchids, while the mainland is an important market. The flower is selected to represent the close ties between the two sides," said Lin Xian, a horticulturist at the garden.
The expo is organized by the International Federation of Landscape Architects and the International Association of Horticultural Producers.