President Xi meets US top military officer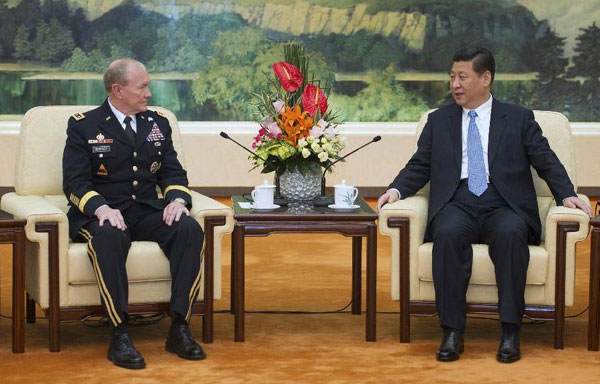 President Xi Jinping, right, who is also chairman of the Central Military Commission, meets with Martin Dempsey, chairman of the US Joint Chiefs of Staff, in Beijing, capital of China, April 23, 2013. [Photo/Xinhua]
BEIJING
 - President
Xi Jinping
met with US top military officer Martin Dempsey in Beijing on Tuesday.
At the start of the meeting, Xi hailed the progress of military-to-military exchanges and cooperation between the two countries since he visited the United States in February 2012 as vice-president.
Xi said he believes Dempsey's visit this time will further help advance bilateral military ties in a healthy and stable way.
For his part, Dempsey, chairman of the US Joint Chiefs of Staff, said he was satisfied with his interactions with Chinese military officers during his China trip.
During the meeting, the US general also offered condolences to victims of the recent earthquake in Southwest China's Sichuan province, adding that he appreciated the Chinese military's swift participation in disaster relief there.
Dempsey arrived in Beijing on Sunday for a five-day visit, the first since he took office as chairman of the US Joint Chiefs of Staff in 2011.