Beijing's 1st H7N9 patient discharged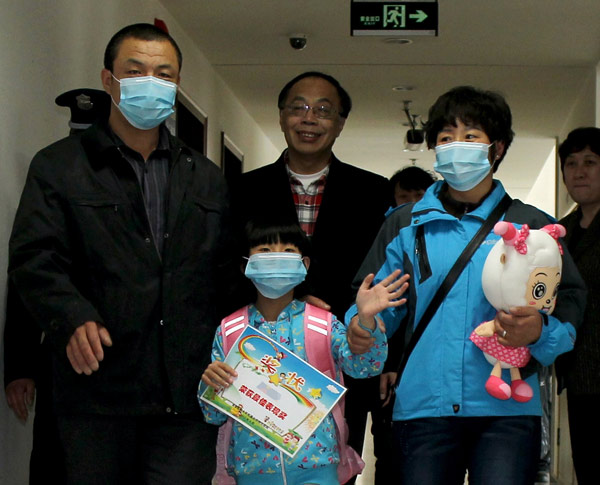 Yao, a seven-year-old girl who was confirmed as the first H7N9 infection case in China's capital takes part in a press conference, accompanied by her parents in Beijing on April 17, 2013. [Photo by Wang Jing/Asianewsphoto]
BEIJING - A seven-year-old girl in Beijing who was infected with H7N9 bird flu, the first such case in the Chinese capital, was discharged from hospital Wednesday afternoon, local health authorities announced.
The girl, surnamed Yao, has fully recovered and has tested negative for the H7N9 virus on four occasions, according to sources with the Beijing Municipal Health Bureau at a press briefing at the Beijing Ditan Hospital, where the girl was being treated.
She was allowed to leave the hospital after meeting physical condition standards, the bureau said. The medical observation of her parents, the only two people who have had close contact with her, was also terminated on Wednesday.
Yao was hospitalized on April 11 and confirmed as the first H7N9 infection case in Beijing on April 13.
Meanwhile, a four-year-old carrying the H7N9 virus in Beijing is in stable condition, and his medical observation in Ditan Hospital will end soon, said Chen Zhihai, director of the hospital's infectious disease department.
As of Tuesday night, 77 H7N9 bird flu cases have been reported across China, of which 16 have ended in death, according to the National Health and Family Planning Commission.