Beijing's 1st bird flu victim to be discharged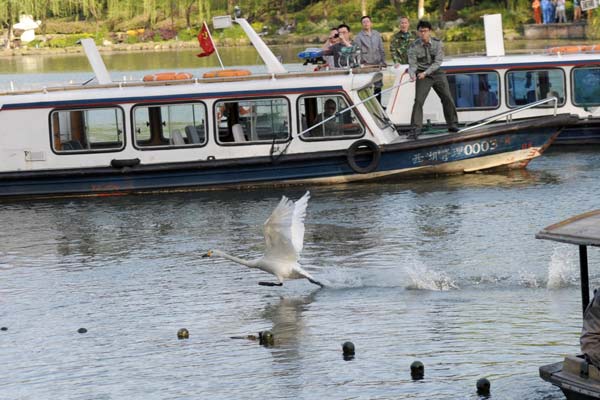 Workers from Hangzhou Zoo and West Lake Park in the Zhejiang provincial capital attempt to capture 13 swans on Monday to prevent the spread of bird flu. The swans will be sent to Hangzhou Zoo and will be closely monitored. DONG XUMING / FOR CHINA DAILY 
Girl now tests negative for virus; authorities raise detection efforts
The 4-year-old Beijing boy confirmed as an H7N9 flu virus carrier has yet to show related symptoms, and the first case of infection will be discharged on Wednesday, Beijing health authorities said on Tuesday.
The 7-year-old girl infected with H7N9 has stopped taking Tamiflu and tested negative for the virus on Tuesday, which was the case for four consecutive daily tests, said Chen Zhihai, director of the infectious disease department of Ditan Hospital.
Zhong Dongbo, deputy director of the city's health bureau, said the girl's parents, who are now under observation at Ditan Hospital, will also be free from observation on Wednesday.
"The test results for the girl's father have been negative. The test result for the girl's mother on April 12 was positive. But her test the next day showed negative results. In two consecutive tests conducted yesterday and today, the virus was not found in her specimen," he said.
Cheng Jun, vice-president of the hospital said the 4-year-old boy's temperature is in the normal range.
"In many kinds of epidemics, if people get infected but show no related symptoms, they will develop immunity to the disease," he said.
In addition, the past two consecutive tests of his specimen had negative results, said Pang Xinghuo, deputy director of the city's center for disease control and prevention.
Both the cases of infection in Beijing involve children, but it is too early to say whether the virus has mutated to be more contagious among children as the reported cases are too few, said Cheng.
"All the cases we discovered till now show limited human-to-human transmission. Most of them were sporadic," said Pang, suggesting that the virus has not mutated to cause extensive infection. "The cases of a couple in Shanghai are being studied. We don't know yet about the exact source of infection for the first case in Beijing."
Beijing has expanded throat swab tests from severe pneumonia with unidentified causes to all flu-like cases in order to discover the symptoms at an early stage and increase the chances of saving as many people, according to Pang.
"By this we will know more about how the disease develops," she said. "In this girl's case, she only showed flu-like symptoms at first, but her health deteriorated very quickly.
"We hope testing all flu-like cases will help us detect the infection sooner and prevent complications."
China confirmed eight new cases of H7N9 avian influenza on Tuesday, bringing the total number to 71.