Walking their way to health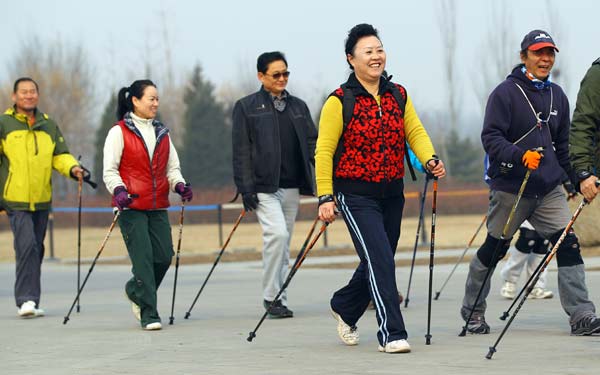 Residents take part in Nordic walking in the Beijing Olympic Forest Park. The walking group in the park has grown from 10 people five years ago to more than 80 in 2013. Zou Hong / China Daily 
Getting fit is just that easy, thanks to a pole-assisted regimen invented by Finns and adopted by Chinese, reports Peng Yining
When Wang Xinming first saw people "Nordic walking" in a park — using a pair of poles while walking naturally – he thought only people with a physical disability would walk with sticks.
But after he tried it once, the 68-year-old former civil servant soon became an enthusiast of this growing sport, which was developed in Finland in 1997 and introduced into China a decade ago.
The use of poles reduces the stress on joints, especially protecting knees during a workout. The pole action also strengthens the upper body.
Wang said he suffered from arthritis for more than 10 years. His knees used to "hurt like hell" when he climbed stairs, or in cold weather. But after five years of Nordic walking, he's feeling the pain gradually dissipate. In a Nordic walking competition in 2011 in Beijing, he walked 16 kilometers in two hours and 20 minutes – with no pain.
"The poles are like two extra legs," he said. "I walk easier and faster."
Wang has lost 15 kilograms of weight since he started to walk, and his high blood pressure and blood sugar level have dropped back to normal.
On a recent Friday morning, Wang and a dozen Nordic walkers, most of them over 50, raced down a path in the icy morning wind in Beijing's Olympic Forest Park, leaving far behind the easy–paced joggers and tai chi morning exercisers.
Nordic walking was first introduced into China by China Institute of Sport Science in 2003. Begun in Beijing and later moving on to other cities, Nordic walking is now promoted and practiced in 20 cities.