Fishing bans aim to restock Pearl, Yangtze rivers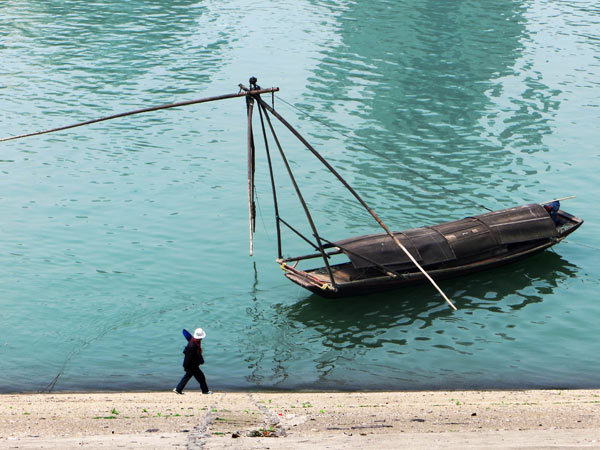 A fishing boat is anchored in the Yangtze River in Yichang, Hubei province, April 1, 2013. [Photo by Zhou Jianping/Asianewsphoto]
Seasonal fishing bans on the Pearl River, and the middle and lower reaches of the Yangtze River, took effect on Monday, in an effort to boost falling fish stocks and protect local ecosystems.
The ban on the Pearl River, China's third-longest, covers some 5,365 kilometers including its tributaries and more than 1,300 square km of lakes.
It stretches into Guangdong, Yunnan, Guizhou, Hunan and Jiangxi provinces and the Guangxi Zhuang autonomous region, and affects some 114,000 fishermen.
Sources with the South China Sea Fishery Bureau under the Ministry of Agriculture said each fisherman being affected will be guaranteed 1,100 yuan ($177) in government subsidies during the ban.
Lin Jianzhi, director of the Zhaoqing branch of the bureau, added each fishing boat will also be granted some 6,000 yuan in compensation.
"After two years of implementing this seasonal ban, fishermen along the river have shown great support to the move.
"They appreciate the ban will benefit them in the long run, in terms of future fish numbers," said Liu Tianrong, the bureau's deputy director.
Liu said the previous bans had improved the number of fish varieties and increased fishermen's income.
In 2012, for example, he said the number of newly hatched fish in the Pearl River increased nine fold, against 2011, the first year the ban was introduced.
"Some illegal activities such as catching fish with storage batteries have been greatly curbed, which will also help protect the river's ecology," Liu said.
In the Yangtze River area, the ban will last for three months, despite some ecologists claiming the annual move - in place since 2002 - had done little to improve the longest river in Asia's ecosystem, or the wildlife in its surrounding areas.
Local authorities have been promoting the ban since late last month, raising awareness among fishermen.
They are ready to send inspection teams to make sure the ban, which will affect about 140,000 fishermen in 10 cities and provinces along a 120-km section of the river, is strictly carried out.
Contact the writers at qiuquanlin@chinadaily.com.cn and wangzhenghua@ chinadaily.com.cn