Chinese school rebuilt with African aid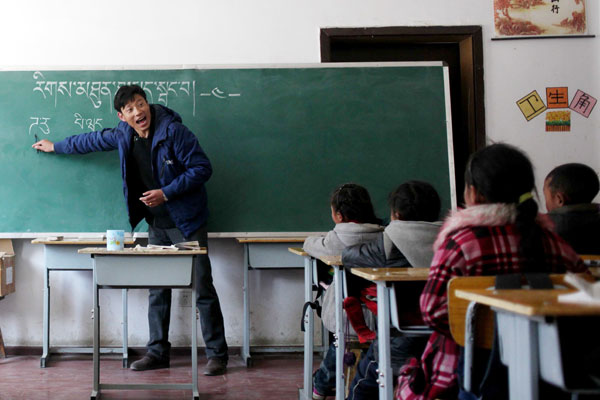 A teacher gives a lecture featuring Tibetan language at the China-Congo Friendship Primary School, which was rebuilt after an earthquake in April 2010. Photos by Wang Jing / China Daily
Mutual support
In April 2010, a 7.1-magnitude earthquake devastated the Yushu Tibetan autonomous prefecture that administers Chindu, leaving seven schools wrecked, but fortunately causing no injuries to students. On his visit to the quake's epicenter, then-president Hu Jintao wrote: "We will have new schools and reconstructed homes" on a blackboard at one of the schools in Jyegu township, the home of the prefectural government.
Three buildings at what was then called Wenle Primary School, the original name of the China-Congo Friendship Primary, were badly damaged, and resulted in 54 teachers and 300 students spending a frozen winter in tents. "Two girls and a female teacher lived in each 'female' tent, while eight boys squeezed together in each 'male' tent, because we only had a limited number," said Principal Kunga Jamyang.
When he attended the Shanghai World Expo in April 2010, Denis Sassou N'Guesso, president of the Republic of Congo, expressed his country's wish to build a primary school in the quake-hit area. A statement from the Qinghai Department of Education said China initially suggested that Congo provide a less expensive donation for fear of overburdening the African country. However, at the Congo's insistence, Qinghai finally decided to accept the generous assistance, according to the statement.
"Although our economic capacity is limited, we should extend help," said Basile Ikouebe, the Congolese foreign minister at a ceremony to celebrate the completion of construction work in July 2012, quoted by the Xinhua News Agency.
Ikouebe said the support was a reciprocal gesture after China offered the African country a great deal of support in areas such as repairing roads. The Congo has enjoyed an enduring and close partnership with the world's second-largest economy since diplomatic ties were established in the 1960s. In 2008, Congo donated $1 million to areas affected by the devastating Wenchuan earthquake in Sichuan province. In total, sub-Saharan countries donated $11 million after the earthquakes in Wenchuan and Yushu.
Congo offered help when the Chinese people were in dire need, and would donate again if China is confronted with a similar situation, said Daniel Owassa, the republic's ambassador to China, in an exclusive interview with China Daily. "We can't wait around and only offer a helping hand once we are wealthy."
Herding and farming accounts for 80 percent of Chindu county's economy, with many kids conforming to the ancestral lifestyle by raising yaks, animals synonymous with the plateau.
"In remote villages, education is likely to be one of the best ways to change the children's destinies, and the new school definitely gives them a better chance of achieving that goal," said the principal.
Although most of the students don't know the exact location of Congo, they are grateful for the kind donation that has given them access to advanced facilities, said student Tsering Lhamo, 13.