Man's 20-year habit leads to kidney ailment
A man surnamed Shen, of Tonglu county, Zhejiang province, was diagnosed with uremia, a condition usually occurring in severe kidney disease, after 20 years of not drinking water. Instead he says he has only consumed beverages such as juices and sugary sodas during that time.
"Soda, milk drink…I like all these sweet drinks and drink more than five bottles every day. I seldom drink water for 20 years." He was diagnosed with kidney stone seven years ago, but he did not change his habits. Early this year, he was told he has uremia and had a stone measuring 3.7 centimeters removed surgically.
Doctors say beverages, especially sodas, can destroy the acid-base balance and can produce stones. Also, water can help the body eliminate toxins, while beverages cause the body to accumulate toxins.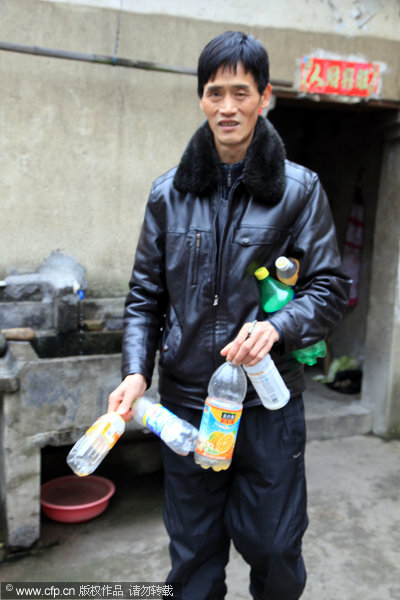 Shen drinks more than five bottles of sugary drinks every day in Tonglu county, Zhejiang province. After 20 years of this habit, he has been diagnosed with uremia. [Photo/CFP]