President Xi begins four-nation tour
MOSCOW -- Chinese President Xi Jinping arrived in Moscow Friday for a state visit to Russia, the first foreign trip after he took office last week.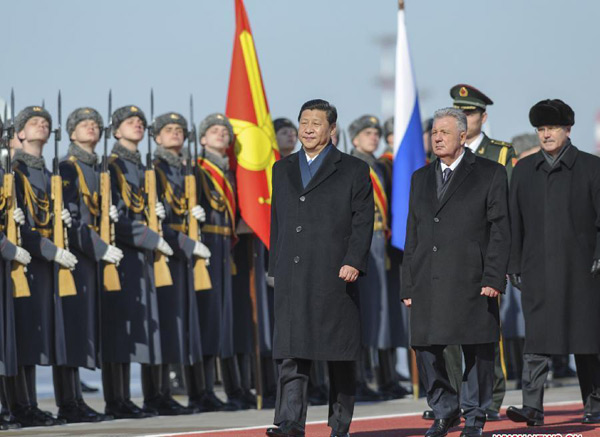 Chinese President Xi Jinping (front L), accompanied by Russian Minister of Far East Development Viktor Ishayev (front R), inspects the guard of honor upon his arrival in Moscow, capital of Russia, March 22, 2013. Chinese President Xi Jinping arrived in Moscow Friday for a state visit to Russia.[Photo/Xinhua]
China and Russia are each other's largest neighbors, and are both major political, economic, technological, cultural and military powers in the world, Xi said in a written statement issued at the airport upon arrival.
They are also both major emerging markets, and important powers to safeguard world peace, security and stability, Xi added.
Developing China-Russia relations would be a priority of China's foreign policy, Xi said.
China is ready to work with Russia to strengthen political support for each other, expand practical cooperation in all fields, launch cooperation in large strategic projects and keep close coordination and cooperation in international and regional affairs, the Chinese president said.
The two countries should translate the strength of their high-level political relationship into concrete results of practical cooperation in order to better promote the development of the two countries, uphold the purpose of the UN Charter and the basic norms governing international relations, safeguard the outcomes of the Second World War and the post-war international order, and maintain international balance, fairness and justice, he added.
During his visit, Xi will hold talks with his Russian counterpart, Vladimir Putin, on the development of the China-Russia comprehensive strategic cooperative partnership and major regional and world issues.
Xi will also meet Prime Minister Dmitry Medvedev and other Russian leaders.
Xi said in the written statement that he believed China and Russia would reach new and important consensus during the talks and achieve fresh and important results.
He expressed the belief that his visit would inject new strong momentum into the sustained, healthy and stable development of China-Russia comprehensive strategic cooperative partnership and benefit the two peoples.
According to Chinese Foreign Ministry officials, Xi is scheduled to give a speech at a Moscow university and attend the launch ceremony of a memorial to the Sixth National Congress of the Communist Party of China, which was held in Moscow in 1928. He will also visit the Russian Defense Ministry and meet Russian sinologists, Chinese-learning students and representatives from the press.
On Friday, Xi and Putin are expected to attend the opening ceremony of the "Tourism Year of China" in Russia, which is part of the "China-Russia Tourism Year."
The "China-Russia Tourism Year," which began last year with the "Tourism Year of Russia" in China, is the third theme year following the "China-Russia National Year" and the "China-Russia Year of Language" held in recent years in the two countries.
Xi's Moscow trip, the first by the new Chinese leader soon after taking office, indicates that China places great importance on its ties with Russia.
In a joint interview Tuesday with reporters from the BRICS bloc, which comprises Brazil, Russia, India, China and South Africa, Xi said that his visit to Russia shows the high level and special nature of the comprehensive strategic cooperative partnership between the two countries.
"The fact that I will visit Russia, our friendly neighbor, shortly after I became China's president, is a testimony to the great importance China places on its relations with Russia," Xi said.
Both China and Russia have attached special importance to Xi's state visit to Russia.
Talking with Putin over phone on March 14 upon his election as Chinese president, Xi said he was looking forward to meeting Putin during his visit and exchanging views with him on ways to strengthen bilateral cooperation as well as on major regional and international affairs.
Xi also said he believed his visit to Russia would inject new vigor into the development of Russia-China relations.
Putin said Russia was making active efforts to prepare for Xi's visit, and expressed the belief that the visit would further promote bilateral cooperation and humanistic exchanges as well as strengthen bilateral ties.
The China-Russia comprehensive strategic cooperative partnership has developed steadily in recent years. Political mutual trust has kept increasing, pragmatic cooperation in all fields has yielded fruits, and the two sides have maintained close communication and coordination on international and regional affairs.
In 2012, bilateral trade reached a record high of $88 billion, an increase of 11 percent over the previous year.
Last month, China and Russia reached an important consensus on boosting oil trade, marking major progress in China-Russia energy cooperation.
The Chinese and Russian governments endorsed their respective enterprises' negotiations on gas supplies to be delivered via an east pipeline, with Russia set to deliver 38 billion cubic meters of gas each year to China.
The two sides will continue feasibility research on liquefied natural gas cooperation using the east line, as well as gas to be supplied via a west line.
The two countries are working to boost bilateral trade, with the goals of reaching $100 billion by 2015 and $200 billion by 2020.
After the Russia trip, Xi will fly to the African continent for state visits to Tanzania, South Africa, and the Republic of the Congo.
In South Africa, Xi will also attend the fifth BRICS summit in the port city of Durban on March 26-27, the first to be held on the African continent. Leaders of the BRICS countries will also have a retreat with African leaders.