3 dead after freak storm wreaks havoc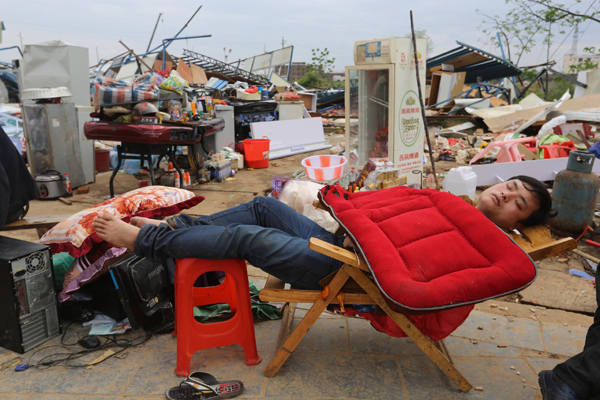 A resident sleeps with belongings that he fetched from his collapsed house after a storm hit Daoxian county, Hunan province, around 3 am on Wednesday. PHOTO BY GUO GUOQUAN / FOR CHINA DAILY
Houses collapse, telegraph poles fall, 110,000 residents affected by damage
Three people have died and more than 50 have been injured by a storm that swept a county in Hunan province before dawn on Wednesday.
The storm hit Daoxian county of Hunan's Yongzhou city around 3 am, said Zhou Jingzhong, head of the county government's publicity office.
One person died when a house collapsed, and the two others died of their injuries in hospital.
Zhou said all the injured are being treated in two local hospitals.
Eight rescue teams made up of more than 2,000 people have been rushed to the disaster areas to help in relief work.
By 6 pm on Wednesday, an estimated 110,000 residents in the county's 27 townships and villages had been affected by the torrential rain, hailstorms and strong wind.
About 21 residential buildings had been pulled down by the weather conditions.
Local authorities have earmarked 200,000 yuan ($32,000) in emergency funding to deal with the storm's aftermath, while civil affairs authorities had prepared 5,000 kg of rice and other daily necessities including quilts, instant noodles and bottled water to help with disaster-relief work.
The storm had led to hours of blackouts for many, but electricity supplies had been restored in most areas except one industrial park, which had been badly affected, Zhou said.
He Li, who lives near the industrial park, said he saw trees and telegraph poles "falling everywhere".
"My home was hit too - the sunshade in my yard fell and squashed my car," he added.
"I have never seen such a gale. The weather forecast only told us that rain was coming, but we never thought it would turn out to be so devastating.
"There are many policemen outside my house who are busy collecting information about the damage."
Wang Li, director of the Hunan Meteorological Administration's division of emergency and disaster relief, said: "This kind of weather frequently occurs during spring in Hunan, but such severity is rare."
Wang said the provincial meteorological authorities had issued orange storm alerts in 40 cities and counties across the province on Tuesday night, the second-highest level in China's three-tier color-coded warning system.
"Given that the spring crop-sowing season has just started in our province, the damage to plants is likely to be limited," he said, adding however, that vegetable and tobacco growers may suffer economic losses.
Contact the writers at hedan@chinadaily.com.cn and wenxinzheng@chinadaily.com.cn
Feng Zhiwei contributed to this story.