Authorities hope to harvest grain self-sufficiency
Increasing population and industrial production puts pressure on supplies
Agriculture authorities will try to stabilize grain output even though many farmers have given up production in the process of urbanization, said a senior official.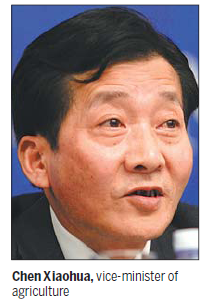 Chen Xiaohua, vice-minister of agriculture, said on Monday that China will enhance its capacity for self-sufficiency in agricultural products as domestic demand for grain has been increasing in recent years.
About 98 percent of China's demand for grain, including wheat, was supplied domestically last year, Chen said during a news conference on the sidelines of the National People's Congress.
Chen said that the increase in domestic grain consumption is caused by the increasing population and a surging demand from industrial production.
Domestic grain production reached 589.5 million tons last year, a year-on-year increase of 18.3 million tons, according to data released on Monday by the Ministry of Agriculture.
China's grain production has increased for nine consecutive years and stabilized at above 525 million tons for five years, said the ministry.
The ministry has a target of stabilizing this year's grain output above 525 million tons.
Chen said spring crops are growing well nationwide and the supply of agricultural materials such as fertilizers are sufficient.
However, the report released by the ministry also pointed out that difficulties and challenges to agriculture and rural development remain.
It's harder to maintain 120 million hectares of farmland with more resources and environmental constraints, said the report.
Water scarcity for grain production is more serious than ever, with a shortage of 30 billion cubic meters of water for farmland irrigation, according to the report.
The report said the net profit of wheat was only 7.80 yuan ($1.25) per hectare, which frustrated farmers' enthusiasm for agricultural production.
Chen, the vice-minister, said agriculture authorities will encourage farmers to contract farmland from the others and cooperate to develop modern agriculture.
Li Liancheng, an NPC deputy and village official from a township in Puyang county of Henan province, urged land transfers be carried out carefully to avoid harming farmers' interests.
The central government should lay out policies to support the development of more farmers, Li said.
Zhao Yanshui, an NPC deputy and also chairman of YTO Group Corp, China's leading tractor maker, said many young villagers have migrated to urban regions and left the farmland to elderly members of the family.
"To help the elderly people operate tractors we have renovated our products, such as adding some power-assistance devices and fixing air-conditioners in the cabin," Zhao said during a group discussion on Sunday.
anbaijie@chinadaily.com.cn