Rumors 'damaging' Xinjiang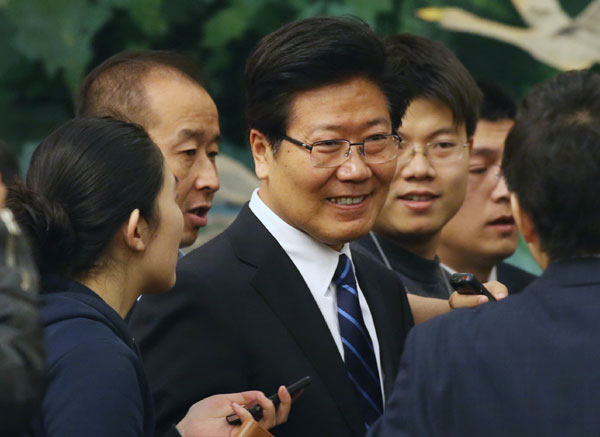 Zhang Chunxian, Party chief of the Xinjiang Uygur autonomous region, is crowded by the press after a group discussion by the Xinjiang delegation during the first session of the 12th NPC in Beijing on Thursday. [Xu Jingxing / China Daily]
Region's Party chief says false messages are leading to misunderstandings
The Xinjiang Uygur autonomous region is facing a new problem — dealing with the dissemination of false information about the region that may lead to people misunderstanding Xinjiang and its people, the Party chief of the region said.
"A lot of information about Xinjiang is exactly the opposite of the facts and some doesn't even exist. I feel frustrated about some of them," Zhang Chunxian, Party chief of the Xinjiang Uygur autonomous region, said during a group discussion by the Xinjiang delegation during this year's National People's Congress on Thursday.
Some commercial disputes involving Xinjiang people are just ordinary incidents that have been dealt with according to regulations but were later exaggerated, said Nur Bekri, chairman of the region.
Last year, police in the city of Yueyang, Hunan province, reported a dispute between vendors from Xinjiang and a customer over the price of sliced cake that ended in a brawl. Many netizens were surprised about the sky-high price and said they have been cheated by Xinjiang vendors selling such cakes.
Nur said some incidents involving Xinjiang people have faced vicious speculation on the Internet, and the hard-working, kind people of Xinjiang have been defamed by people who might have ulterior motives. The intention of such comments is to damage the relationship between people from different ethnic groups.
"It shows that some people lack an understanding of Xinjiang," he said.
"Making the cake is very complicated and it typically uses a mixture of top quality nuts, that's why it's pretty pricey. A block of the sweets could weigh dozens of kilograms and sell for more than 2,000 yuan ($160), but no way near the price of buying a house as some people said on the Internet," he said.
Nur said more and more people from Xinjiang are traveling outside the region to do business and so to a certain extent the number of disputes involving Xinjiang people has increased.
"As a matter of fact, such disputes could happen between anyone, regardless of which ethnic group people are from, but people often pay more attention to disputes involving Xinjiang people."
"A very few Xinjiang businessmen might cheat customers and they have damaged our reputation," said Furat Wushur, chairman of the Xinjiang Wuyuehua restaurant chain that offers diners traditional Uygur cuisine.
"Xinjiang should provide assistance to other provinces in managing businessmen from the region."
While challenged by this new problem, Xinjiang still needs to combat its old problem — severe threats from terrorists, separatists and extremists, Zhang said.
"The current international environment could provoke and influence the three forces within Xinjiang. The penetration of such forces also has its historical background, so it takes time to combat them. But the overall situation of Xinjiang remains stable and it is obvious that it's getting better and better."
It's the third year that Zhang has attended the NPC as a deputy to the Xinjiang delegation and the third time he was surrounded by a crowd of more than 130 domestic and foreign reporters.
He even showed off his Uygur language skill to the reporters.
"I found it difficult to master the Uygur language. So far I can only say one sentence in Uygur, which is happy Corban Festival," he said.
Corban Festival is an important festival of Islam, which falls on Dec 10 according to the Islamic calendar.
Contact the writer at cuijia@chinadaily.com.cn