23 million lifted from poverty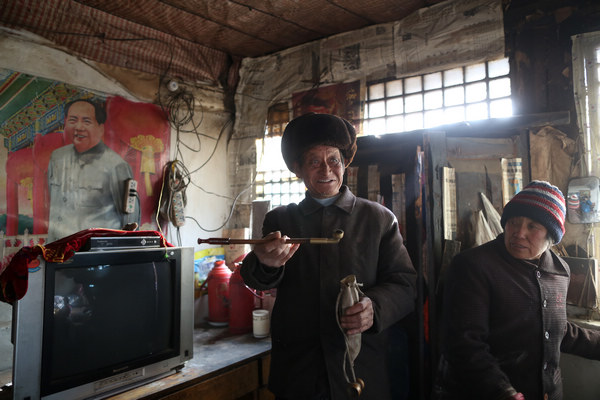 Tang Rongbin (left) and his wife are hopeful their lives will improve after Party chief Xi Jinping's surprising visit to their house in Fuping county, Hebei province, on Dec 30. The poverty-stricken county will receive 300 million yuan ($47.77 million) per year on average, which is 1.5 times the total it has been off ered in the past 20 years combined. [HOU SHAOQING / FOR CHINA DAILY]
Govt allocated 299.6 billion yuan in 2012 to improve people's livelihoods
China will continue to increase its efforts at poverty reduction, despite pressure from the economic slowdown, the country's top poverty relief official said on Wednesday, as he revealed that more than 23 million people were lifted out of poverty in 2012.
Fan Xiaojian, director of the State Council's Poverty Alleviation Leading Group Office, said China's new development goal of doubling its 2010 per capita income by 2020 will require sustained efforts to improve people's livelihoods, especially in impoverished areas.
The 18th National Congress of the Communist Party of China in November set out a blueprint to build China into a moderately prosperous society by 2020, with specific goals of doubling GDP and per capita income from their 2010 levels.
That means the average net annual income of rural residents should reach around 12,000 yuan ($1,920) by 2020, against incomes in some of the country's poorest areas of just 3,300 yuan in 2010.
"To reach that national level, we must maintain a growth rate of 13.7 percent continuously in poor areas," he said. "That task is going to be arduous."
Fan made the remarks at a meeting in Beijing on Wednesday, at which 310 central governmental departments and public institutions were encouraged to strengthen their commitment to poverty-reduction in 592 counties.
In 2012, the central government allocated 299.6 billion yuan to poverty alleviation, a rise of about 32 percent compared with the previous year, according to his office's statistics.
Over the past 12 months, China's rural population considered to be in poverty declined to about 99 million from some 122 million - the first year the country has started to consider those with a yearly net income of less than 2,300 yuan as "destitute".
The proportion of people considered "poor" in China is now 10.2 percent, a drop of 2.5 percentage points over the past year, Fan said.
The global economic downturn and the drop in China's GDP growth last year will inevitably add pressure to the ongoing efforts to bring more comfort to the lives of the country's poor, Fan told China Daily after the meeting.
"The economic slowdown will affect growth in government revenues, not to mention add more uncertainty to the job market and the country's industrial development," he said.
Local poverty relief efforts received a major boost when Party chief Xi Jinping visited Fuping, an impoverished county in Hebei province, during his first official tour shortly after he took office, which analysts believed sent a clear message that China's new leadership remains determined to focus on raising living standards for all citizens.
"The Chinese government has always made poverty reduction an important goal of national development.
"Government-led poverty reduction programs have been highly successful," said Ulrich Schmitt, the World Bank's senior natural resources economist, who works on poverty reduction projects in China.
"As poverty levels have decreased across the country, the remaining poor are harder to reach as they are less concentrated in a specific location and are more dispersed in remote and inaccessible areas," he added.
"In addition, there is less responsiveness of poverty reduction to economic growth. It is becoming more costly to reduce poverty further using conventional approaches."
Wu Tan, deputy director of the Poverty Alleviation and Development Office of Guizhou province, said that about a third of its rural population continues to be in poverty.
"More than 90 percent of our impoverished population lives in remote mountainous areas," he said, adding that the weak ecosystem, poor traffic conditions and underdeveloped infrastructure all pose huge challenges to poverty relief.
Another challenge facing China comes during the transition from rural to urban living, said Christophe Babuet, country director of the United Nations Development Programme in China.
"Internal migration has created a large number of transitional poverty groups.
"During that stage their situation can be just as vulnerable as that of those living in conventional income poverty, and requires tailored measures," he said.
Fan added that despite the increasing pressures, the central government will continue to provide the financial support and resources needed to implement favorable policies that will help unlock the development potential of poor areas.
China's new poverty strategy, the "Outline for Development-oriented Poverty Reduction for China's Rural Areas (2011-20)", released in 2011, promotes a comprehensive poverty reduction approach.
The strategy lays out a broad approach covering rural industrial development, urbanization and transport infrastructure development, comprehensive public service provision, education, health, social security, and forestry and ecological development.
hedan@chinadaily.com.cn