Bringing US-style classes home to China
An old saying goes, "Idle hands are the devil's tools." But sometimes, good things can come from boredom.
Today, 25-year-old Hao Liu sits in a gleaming new CEO's office in Beijing's Sanlitun Soho area because he couldn't find something to do with his summer break while studying abroad in the US.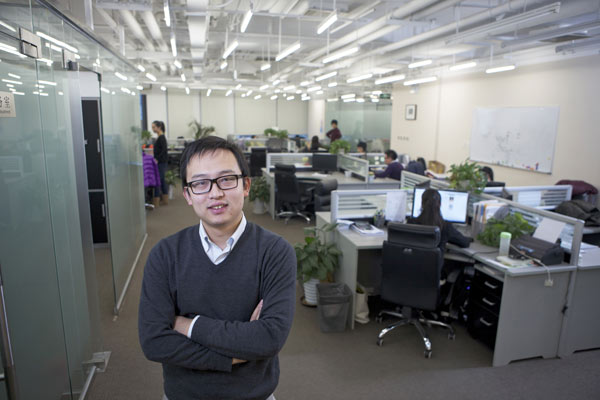 Hao Liu's idea has blossomed into a multicity operation with a staff of 52. Ricky Wong / for China Daily
"It was the end of my first year at Wabash College in Indiana," he says, "and I was looking for a program over there where I could earn credits during the three months' break." He didn't find a US university program that fit his needs, but he found some accredited, American-style courses in Hong Kong and Singapore.
And then he thought: But why not in the Chinese mainland? "Plus," he says, "those programs were limited, only for four weeks."
So Liu, who was studying math and philosophy in the US, seized the opportunity to become an education entrepreneur.
Liu and a friend who'd been at Harvard Law School entered a partnership to create SIE International Summer School, which opened on the campus of Shanghai's East China Normal University in 2010. They created a structure that was considered unique three years ago but has been copied widely since.
"We wanted to offer a summer of American-style classes taught by American professors for American university credits. First- and second-year Chinese students can come home for a summer break without interrupting their studies," he says. He knew that would appeal to parents, too.
ECNU in Shanghai liked the idea, he says, but they'd never done anything like that before. Schools officials told him to try to recruit students and teachers and "we'll see".
Liu hoped to get about 60 students that first year, and signed up 240. Through his US contacts he also recruited 13 teachers - three from his own university, Wabash - and the company was off and running.
Liu finished his own degree in Indiana last year, and today presides over more than 50 employees who organize summer-school programs at six universities around China.
The Chinese schools provide facilities, but SIE recruits teachers and sets academic standards are strict, thanks to a review board entirely composed of American teachers. There is no institutional pressure to inflate grades - teachers work for SIE and not the host universities.
"The stigma of 'no-fail' would kill us in the long-run," says Liu, who seems proud that 2 to 5 percent of SIE's enrollees actually fail.
"For students who have been struggling to maintain their level of academic performance in a new environment," says instructor Kesho Scott, "being back in China re-establishes their comfort zone but still gives them US-standard classes.
"And for the professors? We get a great opportunity to come to China and work - without giving up our 'regular job' during the normal academic year."
While SIE has a US director who recruits from a base in Los Angeles, Liu makes about a half-dozen trips to the US himself every year to recruit teachers. One trip always coincides with Wabash University's annual big game vs DePaul, when the two rivals vie for the Monon Bell trophy.
More than 3,000 students have passed through the program, and SIE will offer classes in Vietnam for the first time this year as well as the six Chinese campuses. Renren, the social network known as the Facebook of China, is a major investor.
"It's exciting to be making US universities rethink study abroad," he says, adding that he hopes SIE will eventually offer a four-year program though at least one university. "It will be a Chinese diploma, American style."
While Liu can spit out facts and figures in a manner that's all business, he doesn't mind acknowledging that his own university days included fun as well as study.
"I had many friends - it was an all-male college so sometimes it was like a big fraternity," he says.
So was the beer better in the US?
He laughs out loud, shaking his head no. "It's much better here," he says, but concedes the circumstances were different in the small Midwestern town.
"In college," he says, "we pretty much drank beer from Wal-Mart."
Contact the writer at michaelpeters@chinadaily.com.cn