Stitches from time
Embroidery is part of the Chinese cultural fabric, and there are many schools with unique stitches, designs and characteristics from various regions. One of the most long-lived is Han embroidery, from the central plains, which dates back to beyond 2,000 years. Wang Ru talks to a guardian of the ancient art.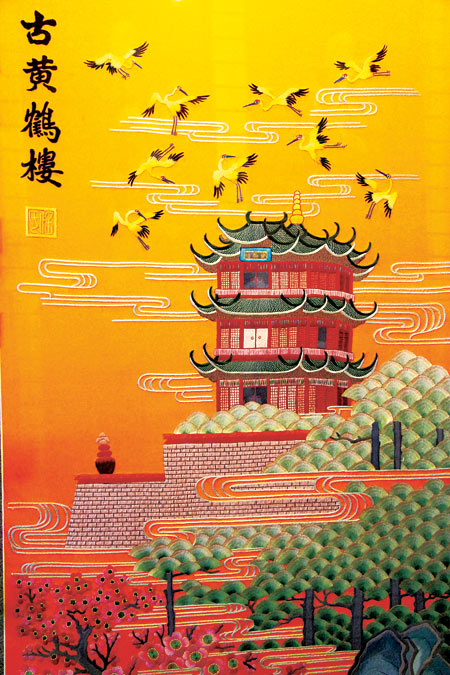 Ren Benrong's works: Yellow Crane Tower or
Huanghelou.
Photo Provided to China Daily
When Red Guards broke into his home during the "cultural revolution" (1966-76), they destroyed more than 200 pieces of embroidery that Ren Benrong had in his collection. He stood aside and watched. As Ren, now 78, witnessed them burn the centuries-old elegant handcrafted work that he had inherited from his father and grandfather, he could not hold back his tears of anguish, but he also felt relieved of a heavy burden. "Most the embroideries were from theatrical costumes of plays about emperors and imperial families, all in the deeply-hated category of 'feudalism's evil legacy' then," Ren explains.
Decades later, he is sitting in his new embroidery studio in a cultural heritage community in Wuhan, capital of Central China's Hubei province, where he had moved to in August last year. He is master of more than 200 apprentices, all here to learn the ancient art of Han embroidery.
It is a style that originated in the ancient state of Chu during the Eastern Zhou Dynasty (770-256 BC), in what is now central China, along the hinterlands of the Yangtze River.
Han embroidery is known for its rich colors, bold designs and fine techniques. Many samples of Han embroidery were discovered in excavated tombs dating from 2,000 years ago.
Legends surround the art, some from the Romance of the Three Kingdoms, a collection of stories from the late Han periods.
It is said that Liu Bei, the warlord of late Eastern Han Dynasty (AD 25-220) was about to face his nemesis Cao Cao, a powerful enemy from the north who intended to invade with a mighty army.
Liu ordered all the women in his city to make brightly embroidered battle flags that would line the city walls.
Awed by the display, Cao suspected an ambush and withdrew his forces. Thus was the embroidery needle proved mightier than the battle-axe.
Back to modern times, Ren, our Han embroidery master, was born and raised on a 400-year old "Embroidery Street" in Hankou, Wuhan, where thousands of embroidery specialists used to practice their art in about 40 or so shops run by merchant families. Their work was exported all over China then.
Ren comes from a family of expert designers on the street. While the actual embroidery was mostly done by women, the designs were only crafted by men, who traditionally passed on their knowledge only to sons, not daughters.
A qualified Han embroidery designer needed to master not only the complicated needlework techniques of Han embroidery, but also the design and tailoring styles of royal costumes from different dynasties, and they needed knowledge of folk culture, Taoism and painting skills.
At the peak of its popularity, the War of Resistance against Japanese Aggression broke out in 1937 and lasted till 1945, and American bombers razed the whole street, which was near a Japanese arsenal in occupied Hankou.
"The business was destroyed overnight. Most shop owners and workers fled to the countryside," Ren remembers.
But genes would tell, and Ren could not abandon the family heritage.