President's Russia, S. Africa visits to boost relations
MOSCOW - The Chinese president's upcoming visits to Russia and South Africa will further boost China's partnerships with the two countries, said Chinese Foreign Minister Yang Jiechi.
Yang is currently on an official visit to Russia. Before arriving in Moscow, he also visited South Africa where a BRICS summit is to be held in late March.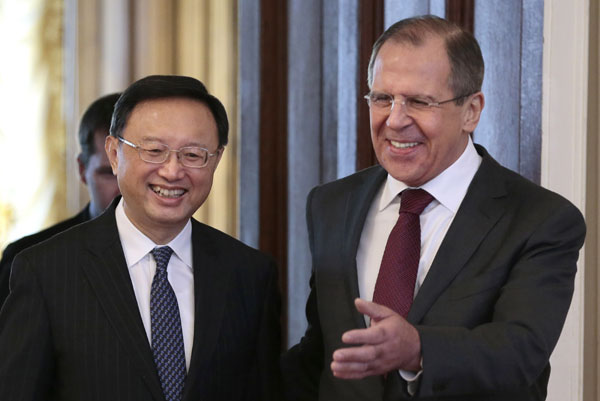 Russian Foreign Minister Sergey Lavrov escorts Chinese counterpart Yang Jiechi during their meeting in Moscow on Feb 22, 2013. [Photo/Agencies]
Over recent years, China-Russia relations have witnessed positive, healthy and stable growth under the guidance of the two countries' leaders, said Yang in a recent interview with Chinese media.
China and Russia share a strong political relationship, as well as a full-fledged mechanism for high-level exchanges and cooperation in other fields, which has given birth to many important achievements, he said.
At a meeting with Yang on Wednesday, Russian President Vladimir Putin said he was looking forward to the forthcoming state visit by the Chinese president, and expected that the visit would boost future development of the China-Russia partnership.
During Yang's stay in Moscow, he also met with his Russian counterpart, Sergei Lavrov.
The two men agreed that their two countries should maintain intensive high-level contact, expand consensus, deepen humanistic cooperation, and further strengthen bilateral coordination in international and regional affairs.