Flower power backs Zhangzhou growth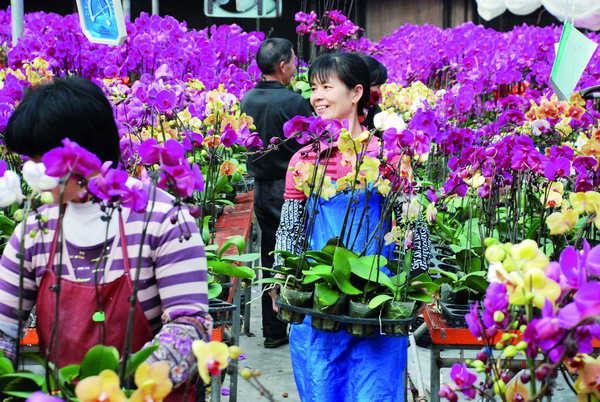 Workers arrange flowers at a butterfly orchid plantation in Zhangzhou, Fujian province. [Wang Chao / China Daily]
Fujian city luxuriates in the beauty and riches of its floral industry
Whether by good fortune or good management, the city of Zhangzhou seems to have realized that flowers, like eggs, should not all be put into one basket.
Zhangzhou, in Fujian province, is a center for flower nurseries, one of the most cultivated plants being the daffodil. What tulip fields are to the Netherlands and lavender meadows are to Provence in southern France, hectare after hectare of daffodils are to Zhangzhou. That means not only land covered in carpets of speckled white and yellow, but the soft fragrance that they give off mingled with the sweet smell of money.
For flowers and big money are very old acquaintances, evidence for that being tulipomania, a surge in tulip prices in the Netherlands in the 1600s that gave the world what is widely regarded as the world's first recorded speculative bubble, and subsequent crash.
But Zhanghou's market for daffodils and other flowers looks to be much more firmly rooted. While the daffodil is the floral standard bearer for the city, which styles itself as "the Southeastern capital of flowers", the city's fortunes ride on other flowers, too.
Underlining the importance of the floral economy, the city even has a flower office. At the end of last year, the local government said, 11,600 hectares of land in the city were dedicated to growing flowers and plants, bringing in revenue of 7.63 billion yuan ($1.23 billion). Export revenue was worth $55 million.
The daffodil, which also labors under the name narcissus, generates revenue of 100 million yuan a year and an additional 400 million yuan for packaging, logistics and fertilizers, the flower office said.
With plenty of rain and an average annual temperature of 21 C, Zhangzhou is a natural greenhouse for a huge variety of flowers. More than 2,000 species are said to grow in the city, the most well-known apart from daffodils being camellias, orchids, and crab-apple flowers.
Some of the most important counties specialize in different flowers: Zhangpu in butterfly orchids and miniature trees, Nanjing in traditional Chinese orchids and Longhai in daffodils.
"Many flowers are marketed to homes, companies and road greening, but not government offices," said the director of the flower office, Lin Biqiang, explaining why Zhangzhou has been little affected by a recent national drive to curb government spending on ostentatious activities such as sumptuous banquets.
Daffodils have been part of the Zhangzhou landscape since as early as the Ming Dynasty (1368-1644), when they took up residence, encouraged by the perfect growing conditions, and were soon being called lingbo xianzi (fairies walking over ripples).
Zhang Wenjiang is secretary-general of the Zhangzhou Daffodil Association and a daffodil sculptor. (In this floral art form, the plants are delicately preened to take on the shape of animals or other life forms or objects.) Born in a small town called Baihuacun (Hundred-flower village), Zhang witnessed the heyday of Zhangzhou daffodil growing 10 years ago when 800 hectares were under cultivation.
Every hectare yields about 67,000 daffodil bulbs, and winter flowers bearing the Zhangzhou brand can be found all over the country.
"The word daffodil is on Zhangzhou's name card, and 98 percent of the national supply comes from here," Zhang said. "Almost every Spring Festival, our daffodils are in short supply because of the huge demand."
Daffodils are particularly appreciated by the Chinese during Spring Festival, and exports go to Chinese communities worldwide, Zhang said.
Twenty percent of the annual yield is sold overseas, 75 percent of that going to Southeast Asia and the rest to Europe and the United States.
The area under cultivation for daffodils has been reined in to less than 500 hectares, making room for flowers with bigger returns.
Although daffodils need to be planted for three years before being dug out for sale, a regular bulb is priced at no more than 5 yuan in Zhangzhou.
Locals are trying to add more value to the flower by sculpting it into various styles, so its value can soar to more than 50 yuan.
But a lack of capital is a serious hindrance the expansion of the flower industry in the city. Most growers have little in the way of fixed assets, so getting bank loans is difficult. To get investment, Zhangzhou government officials have traveled the world showing off flowers and doing other promotional work.
The result is encouraging. Zhang said exhibitions have been held in Taiwan every year since 2006 and their annual sales volume has tripled from the original 1 million yuan.
More trips to Western countries are planned to attract investment, the government said. Meanwhile, farmers are being given support through tax breaks and special utilities tariffs. Farmers in the Fujian-Taiwan innovation park, for example, enjoy a 30 percent discount on their electricity bills.
However, since daffodils grow from a bulb, customs procedures are complicated, something that has hobbled the export drive.
Lin from the flower office said there are about 140 flower companies in Zhangzhou each with annual output of more than 5 million yuan, or with more than 7 hectares under cultivation, and many farmers with independent family operations. Most farms fall into the latter category, and the government is encouraging them to set up cooperatives so that they can benefit through economies of scale.
Since the 1990s these companies have been exporting flowers in large volumes, but since the financial crisis broke out in 2008, the Western markets have lost their shine and most of the farmers have switched their attention to the domestic market.
Zhu Yuening, president of Hongsheng Flower, one of the biggest flower plantations in Zhangzhou, said the overseas market used to account for 80 percent of sales, but that figure is now down to 20 percent.
Five years ago, Zhu said, his company exported 300 to 400 containers of flowers every year, valued at up to 80 million yuan.
He said: "The domestic market has now become the most important, as people are getting affluent and are willing to spend money on flowers to decorate their homes.
"People who own villas, and companies are now big flower plantations' main customers."
Small plants for office tables no longer provide the strong revenue stream that they used to, Zhu said, being replaced by big trees and flowers growing in yards, such as podocarpus. One of these from Japan can fetch 70,000 yuan.
The Zhangzhou government said that miniature fig trees from the city now account for 90 percent of the Japanese and South Korean markets, and export revenue reached 200 million yuan last year.
Cactus used to be the major export to the Middle East, every plant selling for $0.50, but with such a slim return that market has been abandoned.
One of Zhangzhou's success stories is that of Chen Zhiyan, who has managed to forge ties between the city and Western flower capitals. His Haixia Bio-Tech Co, which is preparing to be listed on the Shenzhen stock exchange by 2015, is one of the few Chinese flower companies that own an auction seat in the Dutch flower trade market.
The company said it had turnover of 270 million yuan last year and profit of 20 million yuan.
wangchao@chinadaily.com.cn