Pressure leaves millions of youth exposed to suicide risk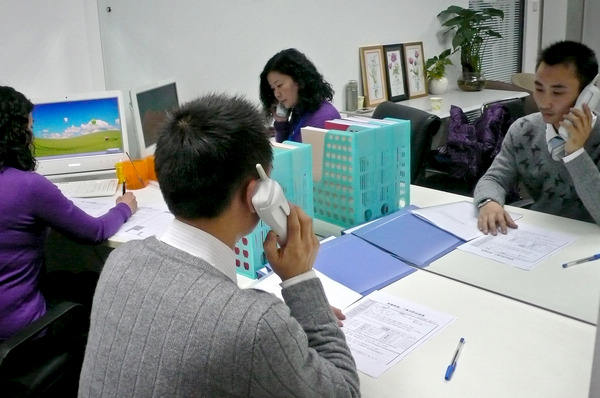 Volunteers at a suicide intervention hotline in Shanghai try to ease the burdens of callers. The mirrors help volunteers adjust their facial expressions and voice tones. [JIANG LEZHOU / FOR CHINA DAILY]
"Sometimes, I would sit in my lab staring at the equipment and ask myself over and over again, 'Why am I alive?' "
This is how PhD student Sun, 27, who did not want his full identity revealed, recalls one of his lowest points. "It was a few years ago, but at the time I just couldn't see a future," he said. "I still can't, I guess."
He eventually sought professional help, and with continued support he says he feels better.
Analysis suggests millions of young people like Sun are struggling under the pressures of work, study and relationships. Unfortunately, many are not finding the help they need.
Every year, roughly 250,000 people commit suicide in China, while another 2 million attempt to cut their lives short, according to the Ministry of Health. Although studies show the highest incidence is among elderly and rural women, the Chinese Center for Disease Control and Prevention says suicide is now the top cause of death for people aged 15 to 34.
The data "show us that this group of people needs far more help with mental health", said Lin Kunhui, founder of Life Education and Crisis Intervention Center, a nonprofit organization in Shanghai.
In December, his center launched the city's first 24-hour suicide hotline, and within a month it had received 632 calls, mostly from white-collar workers aged 23 to 35.
According to Lin, roughly 20 percent of callers needed urgent crisis intervention.
"Young people on the Chinese mainland are under a huge amount of stress, but they have few places where they can talk to someone about their problems," he said.
Suicide remains a taboo subject in China. Studies into the problem were nonexistent until the 1990s.
Michael Phillips has been looking into the issue for more than two decades, and between 1995 and 2000 he cooperated with the Chinese CDC to conduct the largest-ever study of suicide in China. He talked with families in 23 locations nationwide about loved ones who had killed themselves.
"Suicide is a very complicated problem. It's a different situation among different groups," said Phillips, now director of suicide research and prevention at the Shanghai Mental Health Center and winner of the State Council's 2012 International Science and Technology Cooperation Award.
"The problem among young people has to do with education and family environment. There is too much to be done in the country."
The study found that from 1995 to 1999, China's suicide rate reached 0.023 percent, one of the highest in the world. In recent years, the rate has dropped, thanks largely to controls on pesticides, and greater medical support and education.
However, the suicide trend among young people in recent years has raised concerns.
A 2008 poll of more than 3,800 teenagers in Foshan, Guangdong province, found that 17 percent of female junior high school students had contemplated suicide. The main reasons were the pressure to behave well and feelings of isolation and loneliness, according to a report by the city's health authority.
"There is a clear connection with the country's basic education system," said Xu Kaiwen, an associate professor of clinical psychology at Peking University.
"They (the girls) have been educated to work hard and receive high marks from childhood. But although they perform well in class, they lack education about the value of life," he said, adding that the problem is even more serious at prestigious universities.
"When they (students) meet difficulties, they are fragile," he said. "Such problems will extend to their work and life after graduation."
Depression increases the risk of someone attempting suicide by as much as 20 times, according to the Chinese CDC, with anxiety disorders increasing the risk by six to 10 times and alcohol abuse by six times.
To help students cope with the pressure, Xu said Peking University offers psychological counseling sessions once or twice a week.
"For young people who grow up under the protection of their family, there must be a platform for them to speak out whenever they feel anxious or in trouble," said Zhang Qi, deputy director of the psychological counseling center at East China Normal University.
"Keeping these things inside can make them into a disease," he added. "It requires work from families, schools and the government."
Cao Lianyuan, former director of Beijing Psychological Crisis and Intervention Center, agreed and said that although there is no cure-all remedy, ensuring people get enough social support through help lines and counseling would go a long way to reducing the suicide rate.
The first suicide hotline on the Chinese mainland opened in Beijing in 2002. Since then, similar projects have been launched in major cities such as Guangzhou, Hangzhou and Nanjing.
"In Taiwan, a 24-hour suicide intervention hotline can receive as many as 100,000 calls a year on average," said Lin, who is also secretary-general of the Taiwan Suicide Prevention Association. "On the Chinese mainland, the number still lags behind."
He said about a third of calls to the Life Education and Crisis Intervention Center come from people living outside of Shanghai.
"That reflects a large demand for such services, so psychological aid and crisis intervention need to be widely publicized," he said.
The center is now planning to expand the hotline to cover every district in Shanghai.