The new generation of 'best paid' jobs
A recent online post on Sina Weibo carried a link to an intriguing new list published by the Chinese business magazine, Investment & Finance.
Highlighted were what the magazine considered the 10 "best paid emerging jobs of the year".
An online novel writer, for example, can make millions of yuan, apparently, by writing fictional stories about princes and princesses in ancient China.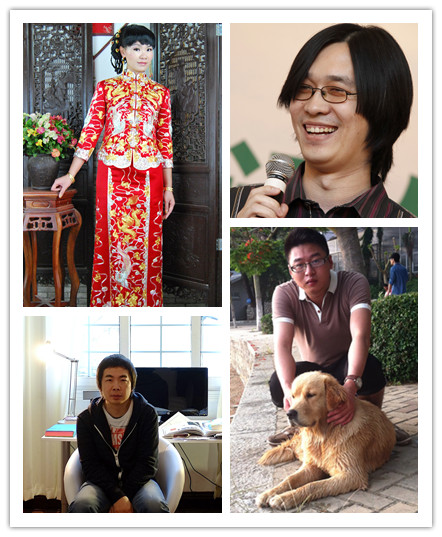 Clockwise from left: Web cartoonist Gao Youjun,qungua designer Tang Zhiru, Internet writer Tangjiasanshao, Internet writer Xia Yi. Provided to China Daily
No actual names were used, and none of the salaries were verified, but China Daily thought it would be worth digging out some people who actually do the jobs highlighted, to see how much they earn and whether their jobs are as appealing as the post suggested.
Web cartoonist
Despite being the boss of an advertising company that employs dozens of the most creative people in town, Gao Youjun thinks there's no better job than being an anonymous satirical Web-based comic cartoonist, whose job is to entertain tens of thousands of netizens for free.
By day, the 46-year-old Shanghai native is a senior executive serving high-spending clients.
But by night, after a day of toil — or in his own words, a day of frustration and rejection of his proposals from clients — the art graduate picks up a pen to entertain his loyal online followers, which have been built up to more than 58,000 on Sina Weibo.
"It's a process of self-healing," said Gao, who has also now had some of his work published in magazines and newspapers.
However, the company executive said any payment for the work is so "insignificant" that he hardly notices it when it gets credited to his account.
Gao's Web comic du jour started two years ago, over a casual dinner with a friend, who said he didn't think he had the patience to draw a strip every day.
But after three months or so, Gao's comic — posted under the ID name Tango2010, usually with few words and closely related to the news of the day or week — had begun to be widely reposted online.
"People seem to be more interested in seeing pieces aimed specifically at individuals, or those making a fool of someone," he said.