Wind blows man's savings away in Shanghai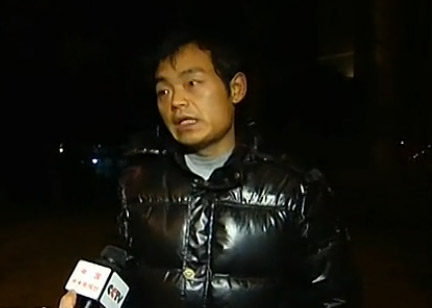 Qin Xiaoliang [Image taken from video of China Central Television]
A migrant worker lost the majority of his one-year savings after the wind blew his cash away at a crossroads in Shanghai on Sunday afternoon and passers-by scrambled to grab the money.
With help from the police, he had recovered about 7,800 yuan ($1,240) by Monday afternoon.
Qin Xiaoliang came to Shanghai to work as a courier from his hometown in Anhui province. He wrapped 17,600 yuan in paper and kept the money in the pocket of his jeans. But the money was blown away by the wind as he was rushing to the bank on his electric bike to deposit it.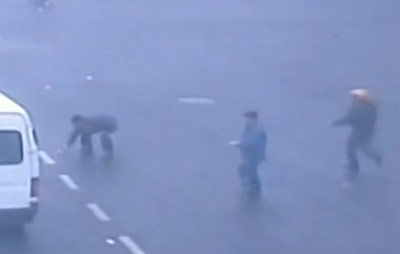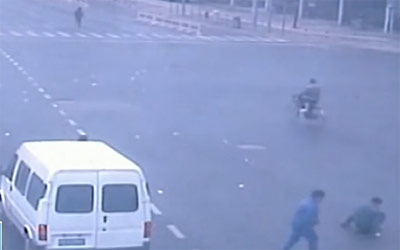 Images taken from video of China Central Television show passers-by scrambling to grab the money in Shanghai.
A witness surnamed Yu told the Shanghai Morning Post that Qin got down on his knees and begged people in the crowd who were rushing to get the 100-yuan notes scattered over a wide area to give him back the money.
"He said that it was hard-earned money and that it was the money he was saving to return to his hometown for the upcoming Spring Festival," said Yu, adding that some people still took the money away.
Another witness surnamed Huang told the newspaper that the money was gone in minutes.
"Only three people, all environmental sanitation workers, gave me back the money," the newspaper quoted the 31-year-old Qin as saying.
Qin only got 3,700 yuan out of his 17,600 yuan on the scene.
Qin said that all the money was earned by his 83-year-old father who worked as a sweeper last year, and that the two were supposed to take the night bus back home to Anhui's Fengtai county at 8pm Sunday.
Qin later dialed 110 to call for the police's help at 12:59 pm as not many people had returned the money.
According to police officer Shi Chunhai, Qin was crying and on his knees when he arrived at the spot.
"He only started to count the money when we put him in the police car and it was only 3,700 yuan, among which he personally collected around 3,000 yuan and 700 yuan were returned by strangers," said Shi.
The police contacted the owners of two cars, who picked up Qin's money and drove away, by watching footage from the monitoring cameras at the crossroads. Both car owners promised to return the money.
According to Xuan Kejiong, a reporter with Shanghai TV, more than 300 people contacted him via Weibo and said they'd love to help Qin financially so that he can have a good Spring Festival after he posted about what happened online.
The Weibo account of Shanghai's police department also said a passer-by was hit by a car and injured his leg due to the chaos caused by the incident.
shiyingying@chinadaily.com.cn