Wetland coverage expands amid collective efforts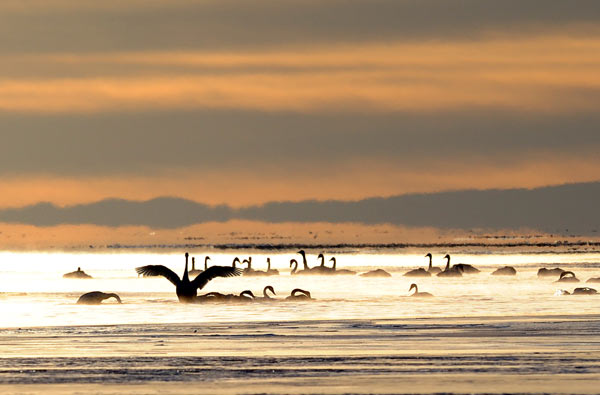 Swans are seen in the Qinghai Lake in Qinghai province, Nov 27,2012. [Photo/Xinhua]
XINING - Years of wetland conservation efforts by the government, non-governmental organizations (NGOs) and individuals have paid off in northwest China's Qinghai Province, which now holds the largest share of the country's wetlands.
By the end of last year, Qinghai's wetland area had reached 8.16 million hectares, roughly marking a 50-percent increase from 1997, according to data released by the province's forestry department in late January.
The year-on-year wetland growth partly resulted from increasing rainfall and expanding headwaters on the Yangtze River, said Cai Ping, deputy director of Qinghai's wildlife and nature reserve administration.
"But human factors are more worth noting," he added, pointing to the provincial government's continuous investment and public participation.
Qinghai has thus far established seven wetland nature reserves at the provincial level or above, including Qinghai Lake and Hoh Xil nature reserves. These reserves cover a total area of 21.2 million hectares, or nearly 30 percent of the province's total area.
Over the past five years, Qinghai Lake, Gyaring Lake and Ngoring Lake, three Chinese wetlands of international importance listed under the Ramsar Convention, have received a total of 30.5 million yuan (about 4.9 million U.S. dollars) in government subsidies, according to Cai.
"Government input has been used in wetland conservation, as well as monitoring water quality, biodiversity and wildlife epidemics," He said.
In the neighboring Tibet Autonomous Region, the government has spent 264 million yuan on 11 wetland conservation projects and vegetated more than 200,000 hectares of wetland in recent years, according to Lei Guilong, chief of Tibet's forestry department.
Wetlands, if properly protected, can aid in water purification, flood control and maintaining biological diversity.
A wetland conservation mechanism has taken initial shape in China, with more than half of the country's wetland resources effectively protected, said Zhao Shucong, director of the State Forestry Administration.
But prominent problems, such as losses of wetland areas and biodiversity, remain to be solved, Zhao added.
Apart from government initiatives, NGOs and individuals are also making contributions to curbing wetland degradation.
Green River, an NGO based in southwest China's Sichuan Province, set up an environmental protection station in Qinghai near the Tuotuo River -- one of the Yangtze River's headwaters -- in August 2012.
Regular staff and volunteers at the station clear away rubbish near the river, conduct routine surveillance to protect bar-headed geese from being poached and work to engage local residents in their undertakings, said organization head Yang Xin.
"The more people join us, the better protected wetlands along the Yangtze River will be," Yang said.
For 48-year-old Namgyal, wetland conservation is more of a personal matter.
Having grown up near wetlands on the east bank of the Qinghai Lake, it has pained the Tibetan herder to see the grasslands degrade, flowers wither and springs dry up.
In 1997, Namgyal decided to do something. Over the past 13 years, he has fenced the wetland, purchased a pump to circulate water, released undersized fish and patrolled every day to keep cattle and sheep off the wetland.
"I feel that the wetland of my childhood memories, fertile and home to flocks of black-necked cranes, is coming back," Namgyal said.