Hot debate on how to keep South warm
By Wang Zhenghua in Shanghai and Wang Qian, Jin Haixing in Beijing | China Daily | Updated: 2013-01-29 00:02




On a typical night in December, Chen Lizhen sits in front of a TV in her apartment in Shanghai, fully dressed in a thick coat and sipping a cup of hot tea.
As the weather girl on TV cheerfully reminded her audience of another cold front already on the way from somewhere in the far north, the face of the 51-year-old former textile worker turned bleak.
"It means great discomfort in the coming week, and there is nowhere to escape (from the cold), even if you stay indoors," said Chen, glancing at the thermostat on the wall that registered a temperature of about 8 C.
"Sometimes I envy people living in the north because their rooms are very warm in winter because of their central heating system," said the woman, who, like hundreds of millions of residents in the south of China, has to rely on devices such as electric heaters to keep warm in winter.
Although the heavily subsidized central heating service provided to northern families may not be a universal solution to all living in the south, it is at least an option, she said.
The call to expand government-backed heating services to the south has never been as loud as this year, when the coldest winter in 28 years hit the country.
The mercury has been at an average of -3.8 C around China since November, or 1.3 degrees lower than the average for this period.
Along with the individuals who have been shivering through the cold and damp winter weather in their southern homes, People's Daily and Xinhua News Agency have urged regional authorities to take action, with the media outlets' calls being interpreted as a view that is supported by the central government.
The Ministry of Housing and Urban-Rural Development said on Wednesday that decentralized and regional heating systems are encouraged in areas that have sweltering summers but cold winters.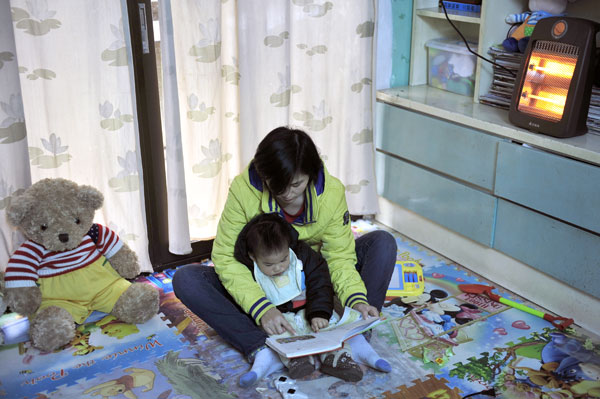 A mother reads a story to her child in front of an electric fi re in Fuzhou, Fujian province, on Friday. LIU TAO / FOR CHINA DAILY