Buildings collapse after subsidence in S China
GUANGZHOU - At least three buildings collapsed on Monday afternoon after subsidence in Guangzhou, capital of South China's Guangdong province.
At around 4:40 pm, subsidence occurred at a road junction in the Liwan district of downtown Guangzhou. About three neighboring shop buildings collapsed successively, said rescuers.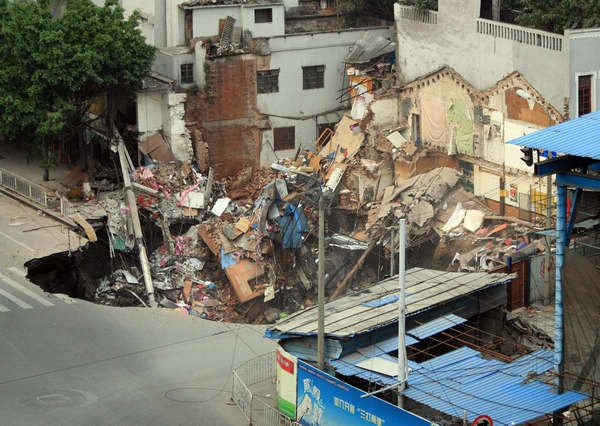 Construction of a metro line causes the ground to cave in in downtown Guangzhou, capital of Guangdong province, on Jan 28. The accident, which occured on 4:37 am, left a 9-meter-deep hole in the ground. [Photo by Zou Zhongpin / China Daily]
There are no casualties from the incident, which was near a metro tunnel construction site, said Guangzhou Metro Corporation on its official Sina-Weibo account, China's version of Twitter.
At 4:20 pm, metro builders found land subsiding near the project site and helped evacuate the area. Afterwards, the ground sank and buildings collapsed, Guangzhou Metro said.
As of 8 pm, rescuers adopted risk-prevention methods by backfilling concrete into the subsidence area. Monitoring statistics show that there is no further risk and the accident site is stable, it said.
According to a witness, surnamed Xu, some trees fell down at about 4:30 pm. Two two-story neighboring shop buildings then collapsed with ground subsidence nearby.
Around 6:30 pm, a shop building of five or six stories collapsed, Xu added.
The cause of the incident is being investigated.