China's Xi meets Japanese ruling party leader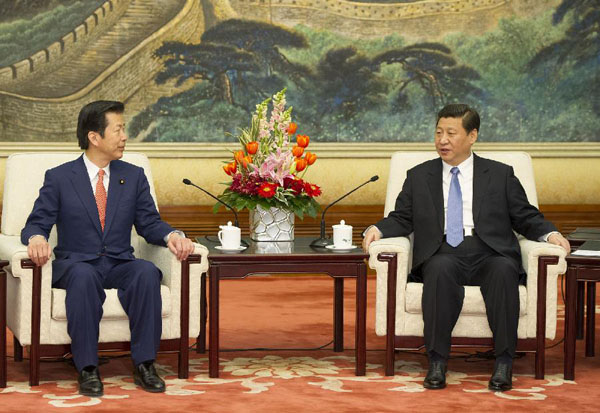 Xi Jinping (R), general secretary of the Central Committee of the Communist Party of China, meets with Natsuo Yamaguchi, leader of the New Komeito party, one of Japan's two ruling parties, at the Great Hall of the People in Beijing, capital of China, Jan 25, 2013.[Photo/Xinhua]
BEIJING - Xi Jinping on Friday said China and Japan should address "sensitive" issues between the two countries effectively and in a timely manner.
Xi, general secretary of the Communist Party of China (CPC) Central Committee, made the remarks as he met with Natsuo Yamaguchi, leader of the New Komeito party, on Friday morning. The New Komeito party is the smaller of Japan's two ruling parties.
Yamaguchi, who arrived in Beijing on Tuesday, is the first senior member of Japan's ruling bloc to travel to China since the Japanese government announced it would "purchase" part of the Diaoyu Islands in September, a move that soured bilateral relations.
"China's stance on the Diaoyu Islands is consistent and clear," Xi said, urging the Japanese side to respect history as well as reality and make joint efforts with China to seek effective methods for appropriately controlling and resolving problems through dialogue and consultation.