Drivers must treat yellow as the new red, Yang Wanli, Jiang Xueqing and Hu Yongqi report in Beijing.
Speed up or slow down? That was the question Wang Xueliang pondered as he approached the traffic lights.
The 45-year-old driver hesitated for a few seconds before stepping on the brakes and stopping his car at an intersection on Beijing's Chang'an Avenue, even though the traffic light was still green.
The light turned yellow a split second later.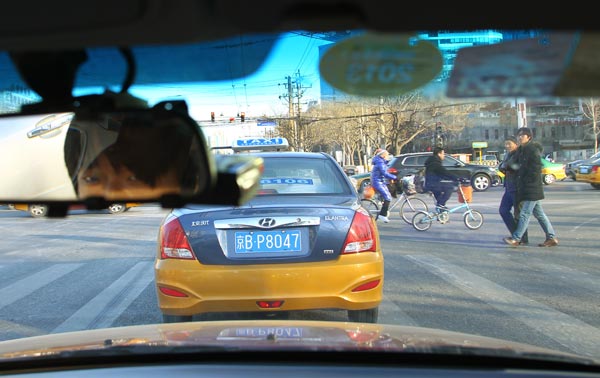 Cars brake on the yellow light at a Beijing intersection on Thursday. A new traffic regulation that aims to stop drivers from running yellow lights has caused an outcry, with many Internet users saying it will lead to more accidents. [Photo by Zou Hong / China Daily]
For many drivers, passing through traffic intersections has become a guessing game since New Year's Day.
From Jan 1, new traffic regulations mean all drivers in China that run a yellow light will have six points deducted from the 12 allocated to their license.
Drivers who forfeit 12 points over a calendar year will have to attend training courses and take exams organized by the local traffic management bureau.
The rule was branded "China's harshest traffic rule" by many online observers.
Each violation is punished according to a sliding scale of point deduction, relative to the severity of the offense. Drivers who run yellow lights will receive the same six-point penalty as those who run red lights.
The revised rule also enacts strict punishments for speeding, covering up the license plate, making phone calls while driving, and drunken driving. The penalty for covering up a license plate is 12 points. In addition, an additional 14 violations have been added to the books, raising the number of possible violations to 52 from the previous 38.
Fewer infringements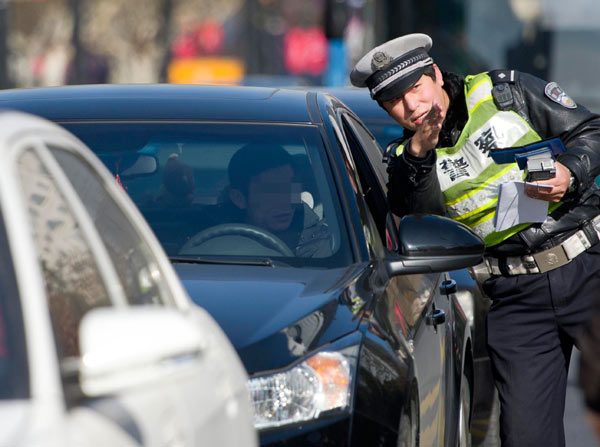 A Hangzhou police officer fines a driver for a traffic violation on Tuesday. [Provided to China Daily]
"On the day the revised rules came into force, drivers followed the rules and commonly seen violations, such as ignoring traffic lights and deliberately covering up license plates, were seen less frequently," according to a report by Xinhua News Agency, quoting the Ministry of Public Security.
The report said the number of accidents decreased substantially on Tuesday in five major cities — Beijing, Tianjin, Nanjing, Hangzhou and Jinan — from the previous day. Moreover, no severe accidents, such as those caused by drivers ignoring traffic signals, were reported.
Although the ministry said on Wednesday that some major cities reported a sharp decrease in urban traffic violations, the new regulation remains controversial because drivers find it difficult to predict yellow lights and stop their cars in good time.
"I don't understand what the yellow light is for, if we have to stop as soon as we see it. All we need is a green light that's either on or off," said Wang.
"Now, I have to slow down when the light is still green. The new regulations make drivers pass through easily blocked intersections even more slowly, increasing the danger of rear-end collisions and prompting more insurance claims."
Some drivers said the Ministry of Public Security has been too hasty in concluding that running a yellow light is a traffic violation, because drivers are accustomed to passing through the yellow light and it takes a few seconds for them to hit the brakes and stop their cars.
Wu Daming, a lecturer at East China University of Political Science and Law, described the new traffic regulation as "simple and crude" on Sina Weibo, China's version of Twitter.
"The penalty for the 'yellow light' is a trap. At many crossroads, there are no countdown clocks for the green lights, which can turn yellow in a second. That leaves no time for drivers to stop," he said. "If vehicles should stop, rather than just slow down, when the yellow light is on, what is the function of the red light?"
Related stories about the new traffic rules:
Seeing red over yellow light rule
Harsher rules curb urban traffic accidents
Tough rule ensures traffic safety