Pledge to play major role for Korean peace
Updated: 2011-10-24 07:47
(China Daily)
| | | | | | | | | | | |
| --- | --- | --- | --- | --- | --- | --- | --- | --- | --- | --- |
|   | | Comments() | | Print | | Mail | | Large Medium  Small | 分享按钮 | 0 |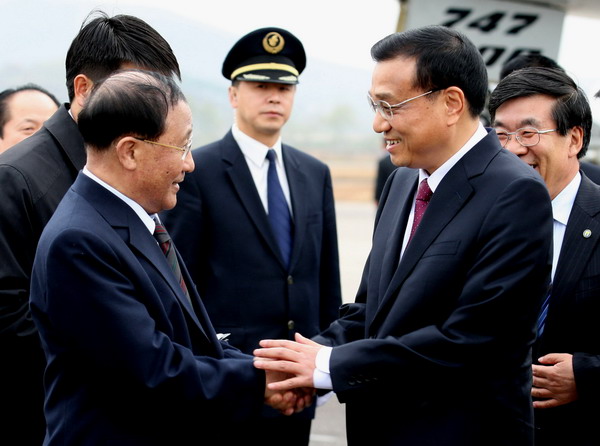 Vice-Premier Li Keqiang is greeted by his Democratic People's Republic of Korea counterpart Kang Sok-ju at Pyongyang airport on Sunday as he starts a three-day visit to the country. [Photo by Yao Dawei / Xinhua]
Bid to resume Six-Party Talks appreciated
PYONGYANG - Vice-Premier Li Keqiang arrived in Pyongyang on Sunday for a three-day visit to the Democratic People's Republic of Korea (DPRK), which was widely believed to be significant for regional peace and development.
China is willing to continue to play a constructive role and work with all parties concerned to make a positive contribution to promoting the denuclearization of the Korean Peninsula and safeguarding regional peace, stability and development, Li said.
China and the DPRK are friendly neighbors and relations have been growing smoothly, Li said in a written statement released upon his arrival.
China appreciates the positive efforts of the DPRK in improving relations with the Republic of Korea (ROK), as well as US-DPRK relations and in promoting the resumption of the Six-Party Talks, Li added.
Li arrived in Pyongyang just one day before the US and the DPRK are due to meet in Geneva for their second round of direct discussions aimed at reviving long-stalled negotiations.
US officials have said that the DPRK must take real steps to heal ties with the ROK before Six-Party Talks can resume.
The talks, scheduled for Monday and Tuesday, follow DPRK leader Kim Jong-il's renewed call for the quick resumption of nuclear talks without preconditions, the ROK's Yonhap news agency reported.
During his stay, Li is expected to meet leaders of the Workers' Party of Korea and the DPRK government to discuss ties, as well as regional and global issues of common concern.
The relationship between China and the DPRK is entering a new era of development and has a bright future, Chinese Ambassador to the DPRK Liu Hongcai said on Saturday.
China is willing to work with the DPRK to take ties to a higher level, Liu told the Xinhua News Agency in a written interview.
He pointed out that economic cooperation between the two countries has shown great potential, with trade and investment reaching new highs.
Liu stressed that the DPRK's increased emphasis on economic development and improving living standards is broadening its foreign economic cooperation and attracting more Chinese enterprises to do business and invest in the country.
China-DPRK trade totaled $3.1 billion in the first seven months of this year, registering a year-on-year increase of 87 percent.
Li's trip to the DPRK will be followed by a visit to the ROK on Wednesday and Thursday as a guest of the ROK government.
As the global financial crisis continues, regional cooperation deepens and the Korean Peninsula moves generally toward detente, Li's visit is significant in maintaining and advancing peace and development, Chinese Ambassador to the ROK Zhang Xinsen told Xinhua on Saturday.
China and the ROK established a strategic cooperative partnership in 2008. Last year, China remained the ROK's largest trade partner for the seventh year in a row, and the ROK became China's third-largest trade partner.
In 2010, China-ROK bilateral trade reached $207 billion, surpassing the target of $200 billion two years ahead of schedule. Meanwhile, a new target of $300 billion has been set for 2015.
China and the ROK are vigorously pushing ahead with talks on a free trade agreement as well as cooperation in fields such as international affairs, tourism and education.
It is rare for a Chinese leader to visit the DPRK and the ROK back-to-back, said diplomatic sources, stressing that the visits will strengthen ties.
Li's trips to the DPRK and the ROK will bring benefits not only to stability on the Korean Peninsula, but also inject dynamism into economic cooperation, said Piao Jianyi, director of the Center of Korean Peninsula Studies at the Chinese Academy of Social Sciences.
China Daily - Xinhua
Hot Topics
New sex education textbooks were introduced to pupils in Shanghai on Monday after numerous debates on early-age sex education in China.