Turkey quake death toll exceeds 260
Updated: 2011-10-24 20:30
(Agencies)
| | | | | | | | | | | |
| --- | --- | --- | --- | --- | --- | --- | --- | --- | --- | --- |
|   | | Comments() | | Print | | Mail | | Large Medium  Small | 分享按钮 | 0 |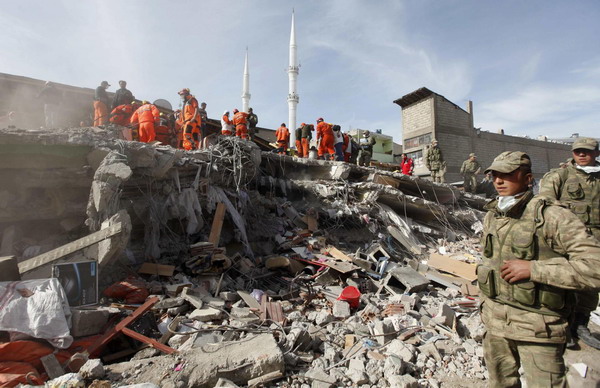 Soldiers stand near rescue workers working to save people trapped under debris after an earthquake in Ercis, near the eastern Turkish city of Van, October 24, 2011. [Photo/Agencies]
ERCIS, Turkey - Rescuers clawed through rubble on Monday to free people trapped by a powerful earthquake that killed at least 264 people and wounded more than 1,000 in Turkey.
Hundreds more were feared dead, as Turkey's most powerful quake in a decade toppled remote villages of mud brick houses.
As some desperate survivors cried for help from beneath mounds of smashed concrete and twisted metal, earthmoving machines and soldiers joined the search after Sunday's 7.2 magnitude quake struck the city of Van and the town of Ercis, some 100 km (60 miles) to the north.
"Be patient, be patient," rescuers told a whimpering boy, pinned under a concrete slab with the lifeless hand of an adult, with a wedding ring, visible just in front of his face.
A Reuters photographer saw a woman and her daughter being freed from beneath a concrete slab in the wreckage of a building that had once been six storeys tall.
"I'm here, I'm here," the woman, named Fidan, called out in a hoarse voice. Talking to her regularly while working for more than two hours to find a way through, rescuers cut through the slab, first sighting the daughter's foot, before freeing them.
Standing by a wrecked four-storey building one woman told a rescue worker she had spoken to her friend, Hatice Hasimoglu,on her mobile phone six hours after the quake trapped her inside.
"She's my friend and she called me to say that she's alive and she's stuck in the rubble near the stairs of the building," said her friend, a fellow teacher. "She told me she was wearing red pyjamas," she said, standing with distraught relatives begging the rescue workers to hurry.
In Van, an ancient city of one million on a lake ringed by snow-capped mountains, cranes shifted rubble from a collapsed six-storey apartment block where 70 people were feared trapped.
Prime Minister Tayyip Erdogan flew swiftly to Van to assess the scale of the disaster.
Erdogan said he feared for the fate of villages which rescue teams had yet to reach. "Because the buildings are made of mud brick, they are more vulnerable to quakes. I must say that almost all buildings in such villages are destroyed," he told an overnight news conference in Van.
NTV broadcaster quoted Interior Minister Idris Naim Sahin as saying the death toll had reached 264. Deputy Prime Minister Besir Atalay, speaking in Van, said more than 1,300 were injured. The interior minister said hundreds more were unaccounted for, many believed buried under rubble.
Erdogan earlier flew by helicopter to Ercis, a town of 100,000 that was harder hit than Van, with 55 buildings flattened, including a student dormitory. "We don't know how many people are in the ruins of collapsed buildings," he said.
At one crumpled four-storey building in Ercis, firemen from the major southeastern city of Diyarbakir tried to reach four missing children. Aid workers carried two black body bags, one apparently containing a child, to an ambulance. An old woman wrapped in a headscarf walked alongside sobbing.
A distressed man paced back and forth before running towards the rescue workers on top of the rubble. "That's my nephew's house," he sobbed as workers tried to hold him back.