US tests spark toothpaste toxin fears
Updated: 2011-09-06 07:50
By Li Yao (China Daily)
| | | | | | | | | | | |
| --- | --- | --- | --- | --- | --- | --- | --- | --- | --- | --- |
|   | | Comments() | | Print | | Mail | | Large Medium  Small | 分享按钮 | 0 |
BEIJING - Concerns have resurfaced in China over the safety of toothpastes containing triclosan, a chemical that may lead to cancer, after the United States Food and Drug Administration (FDA) started a new round of safety reviews.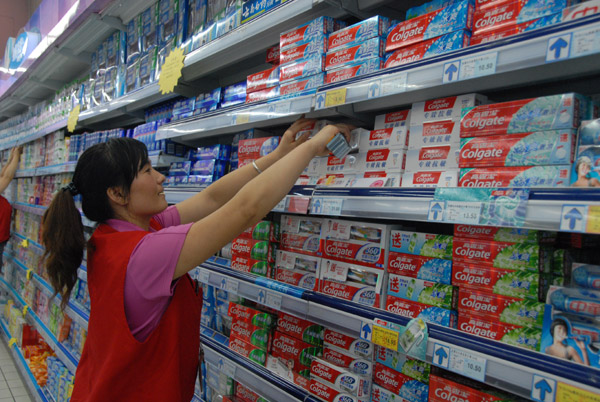 Concerns have resurfaced among customers over the safety of toothpastes containing triclosan, a chemical that may lead to cancer. [Photo/ China Daily]
Toothpaste brands affected include Crest and Colgate.
P&G China said in a statement that only two Crest toothpaste brands sold in China - Crest Multi-Care and Crest Night-Time - contain triclosan and that the amounts are within the legal limit set by Chinese authorities in 2009, which is 0.3 percent of the total weight of the toothpaste.
Colgate-Palmolive China said in a statement that this year it had stopped production of Colgate Total, its only toothpaste with triclosan. That brand attracted only a small market share in China, the company said.
The Colgate-Palmolive statement did not link the decision to phase out the Total brand with health concerns about triclosan, a chemical used in other consumer products such as soaps.
Studies on laboratory animals have shown triclosan may alter hormone regulation and cause antibiotic resistance.
The FDA was to announce the results of its triclosan review in the spring of 2011, but it has delayed the findings until winter 2012.
The administration said the chemical is not currently known to be hazardous to humans and that more evidence is needed.
In 2005, use of the substance in consumer products prompted an international cancer scare when research by Peter Vikesland from Virginia Tech University found triclosan can react with chlorine in tap water and over long-time exposure produce the probable carcinogen chloroform.
Chinese consumers were deeply worried at that time about products containing triclosan.
China's leading quality watchdog looked into the case and admitted more time was needed to develop a safety standard based on sufficient research.
On Feb 1, 2009, a new national toothpaste standard - GB8372-2008 - came into effect, adding triclosan to the legal additive list, with a limit of 0.3 percent of the total product weight.
The previous standard, GB8372, made no stipulation on the amount of the anti-bacterial chemical in toothpastes.
Zhu Qiuzhi, a worker at a branch of Wu Mart in Beijing's Chaoyang district, said the public outcry in 2005 had hit Colgate, Crest and domestic brands, and few triclosan-containing toothpastes have been put on the shelves since.
On Monday, a China Daily reporter saw no toothpastes at the store that listed triclosan on the packaging, but did see a local brand of anti-bacterial soap, Liushen, that did contain the chemical.
Wu Mart customer Xu Shuying, who was buying toothpaste for her 10-year-old daughter, said she was not aware of the current safety debate about triclosan but will now choose triclosan-free products.
At a store at Shouhang Supermarket in Chaoyang district, a China Daily reporter found one toothpaste product for children that contained the chemical. Its manufacturer is Tianjin Yumeijing Group, best known for its baby lotion products.
Wang Liuying, a worker there, said she had received no instructions to remove the product and no complaints or questions from consumers.
Li Gang, a professor of preventive dentistry at the Fourth Military Medical University in Xi'an, Shaanxi province, said consumers should not overreact to triclosan's potential health risks, because the daily amount that people are exposed to is negligible, and the evidence pointing to its harmful effects is still inconclusive.
People should keep in mind that all chemical additives may pose potential dangers to human health, depending on the amounts used, Li said.