Beijing denies Gadhafi arms trade
Updated: 2011-09-06 07:25
By Cui Haipei and Zhao Shengnan (China Daily)
| | | | | | | | | | | |
| --- | --- | --- | --- | --- | --- | --- | --- | --- | --- | --- |
|   | | Comments() | | Print | | Mail | | Large Medium  Small | 分享按钮 | 0 |
No Chinese firms have sold weapons to Libya in any form: spokeswoman
BEIJING - China denied on Monday that it provided Muammar Gadhafi's regime in Libya with weapons in its final days, saying it "does not allow any actions that contravene UN resolutions".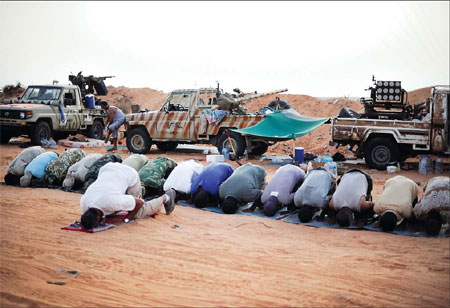 Libyan rebel fighters perform the evening prayer on the frontline near Umm Khanfis, some 80 km east of Sirte, on Sunday as they wait for the end of negotiations with pro-Gadhafi forces. [Photo/Agencies]
"Chinese companies have not provided military products to Libya in any direct or indirect form. Chinese companies did not sign arms sales contracts and they did not export military products to Libya," Foreign Ministry spokeswoman Jiang Yu said at a regular news conference.
She made the remarks in response to reports in the New York Times and the Globe and Mail, a Canadian newspaper, that documents found abandoned in the Libyan capital, Tripoli, indicated that Chinese companies offered to sell rocket launchers, anti-tank missiles and other arms to Gadhafi's forces, despite bans on such sales.
The reports said Libyan security officials visiting China in July were received by three arms companies, including Norinco and the China Xinxing Import and Export Corp.
But a "senior NATO diplomat in Brussels discounted the report as highly unlikely", and members of a United Nations agency overseeing sanctions on Libya said "nothing about arms dealings with China had been brought to their attention", the New York Times report said.
Jiang said that members of Gadhafi's government had come to China in July and held talks with a few representatives of the related Chinese arms companies without the knowledge of the government.
"After the passing of resolution 1970 by the Security Council, we notified relevant government departments to strictly implement it," she said.
"I believe that the agencies in charge of the arms trade will certainly treat this seriously."
She noted that the Chinese government has always adopted a prudent and responsible attitude toward exports of weapons under its international obligations and domestic laws, and such exports would require strict approval from the government.
On reports about China's handling of Libya's frozen assets, Jiang said it had "no difficulty in principle" with the release of such assets.
The head of Libya's rebel National Transitional Council (NTC) Mustafa Abdel Jalil said at the weekend that China had obstructed the release of some of Libya's frozen assets.
Some countries recently filed an application to the United Nations Security Council's Sanctions Committee to release the frozen assets of the Libyan government.
"In the spirit of being responsible to the Libyan people, China and some other members of the United Nations Security Council maintain that the use of the assets and supervision mechanism be further specified," Jiang said.
"After some applicant countries submitted more information, the application was approved by the United Nations Security Council's Sanctions Committee," Jiang said.
She said China has paid close attention to the humanitarian situation in Libya and offered humanitarian assistance since the outbreak of the Libyan crisis in February.
She stressed that China has been in touch with both sides in Libya during the crisis and played a positive role in promoting dialogue and seeking peace.
Gong Shaopeng, a professor of international relations at China Foreign Affairs University, said unfreezing Libya's frozen assets should be a gradual process, as agreed upon during an international conference on Libya's reconstruction in Paris last week.
He said that the assets already unfrozen, worth $15 billion, are enough for the NTC to operate for eight months before a general election is held.
He Wenping, an expert on African studies at the Chinese Academy of Social Sciences, said a supervision mechanism is vital for the assets to be used in a proper way.
"It will be irresponsible if the assets are released without supervision. That may open the door for corruption," she said.
In Libya, rebel reinforcements arrived outside one of Gadhafi's last strongholds on Monday.
Thousands of rebels have converged on Bani Walid, a desert town some 140 km southeast of Tripoli. Gadhafi has been on the run since losing his capital last month.
The rebels have extended to Saturday a deadline for the surrender of Gadhafi's hometown of Sirte and other loyalist areas, but some have warned they could attack Bani Walid sooner because many prominent former regime officials were believed to be there.
Reuters, AFP and Xinhua contributed to this story.