Drought leaves millions facing water shortage
Updated: 2011-08-29 07:28
By Qiu Bo (China Daily)
| | | | | | | | | | | |
| --- | --- | --- | --- | --- | --- | --- | --- | --- | --- | --- |
|   | | Comments() | | Print | | Mail | | Large Medium  Small | 分享按钮 | 0 |
GUIDING, Guizhou - Chen Canchao, a 61-year-old farmer from Xinhu, a remote village in Southwest China's Guizhou province, has been forced to leave her hometown for the first time in her life.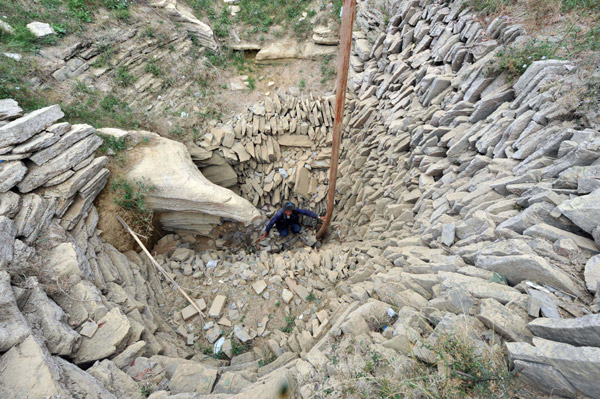 A farmer checks the bottom of a dried well in Leizhuang village in Guizhou province on Saturday. Severe drought has dried up 479 reservoirs and 349 rivers in the province, leaving more than 5.47 million people short of drinking water. [Photo/ China Daily]
Chen and her husband are working in Xinba town, Guiding county, after all their crops failed because of the drought.
"I've never left the village before in my life, but the family can't survive now the drought has destroyed all our rice and corn," she said.
The provincial drought relief headquarters issued a statement over the weekend, saying the drought which started in late June, has affected 87 of the province's 88 counties and dried up 479 reservoirs and 349 rivers. More than 5.47 million people face a shortage of drinking water.
Rice, corn and tobacco are the three main types of crops grown in Guiding, and the drought has blighted more than 90 percent of the rice and corn in the five worst-hit towns, said Song Linglin, an official from the county's water resources bureau.
"Farmers who grow tobacco at least have something to exchange for food, but those who only grow rice and corn have to find other solutions," Song said.
Chen Xian and her husband from Shuichong village, Xinba town, acquired 200,000 yuan ($31,400) in loans from the local bank and invested it in tobacco plants, but the drought has ruined her harvest.
The leaves were only about 30-centimeters long, much smaller than the 1-meter leaves she could expect in normal years.
"I even don't know how to pay my workers," she said.
In Dexin town, also severely hit by the drought, more than 402 hectares of crops - about half the cultivated fields - will not produce even a single grain, said Chen Wenyang, a local official.
"I have lived here my whole life, and I've never seen such severe drought since 1972," said 55-year-old Ding Fuxiang, the Party secretary of the town's Fengshou village. A 700-square meter pool that villagers used to wash clothes and feed tame animals has dried up.
The local government has carried out measures including dispatching water pumps and delivering water to villages where it is badly needed, said Yang Xianyun, the head of the Guiding's water resources bureau.
According to Yang, rainfall of about 300 millimeters this year is one-third the annual average.
"We are planning to help the farmers replant replacement crops such as cabbages and potatoes, to remedy the damage," he said, adding guaranteeing villagers' drinking water is their top-priority at the moment.
In Xinba town, two trucks each delivering five tons of water three to four times a day, guarantee water supplies for at least 5,000 villagers nearby.
"The trucks will reach each village every two days," said Shi Diping, a local official.
When the truck arrived at 56-year-old Chen Guangfa's village, he carried four barrels of water home to ensure there was enough drinking and cooking water for the five family members.
"We have to use the water wisely," Chen said. "I haven't washed my clothes during the whole summer."
According to a statement issued by the provincial department of civil affairs on Friday, the provincial government's effort has eased the water crisis for 4.4 million people.
Meanwhile, Guizhou's weather bureau predicted over the weekend that the drought will persist until the middle of September.
In neighboring Yunnan province, high temperatures and drought have dried up more than 60 rivers and nearly 300 reservoirs, according to a statement from the provincial government.
Some 1.5 million people in Yunnan have insufficient water, it said.
State flood control and drought relief headquarters in last week sent work teams to the drought-ravaged provinces of Guizhou, Yunnan, Hunan and Sichuan, and Chongqing municipality, to assist in relief operations.
The central government has also allocated more than two billion yuan ($313 million) to support drought-fighting efforts in the southwest.
Xinhua contributed to this story.