3 of 26 trapped rescued after NE China mine flood
Updated: 2011-08-28 08:10
(Xinhua)
| | | | | | | | | | | |
| --- | --- | --- | --- | --- | --- | --- | --- | --- | --- | --- |
|   | | Comments() | | Print | | Mail | | Large Medium  Small | 分享按钮 | 0 |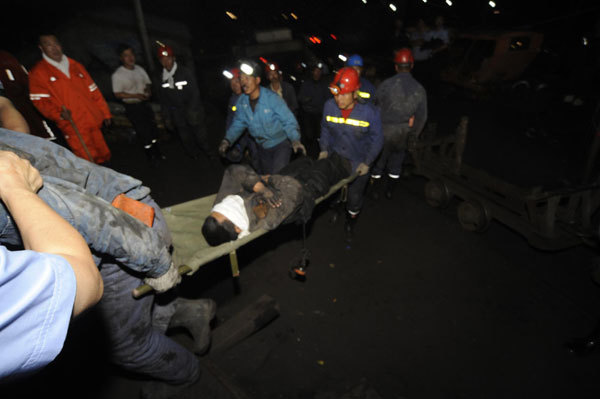 A miner rescued from a flooded pit of the Hengtai Coal Mining Co is carried away on a stretcher in Boli county, Northeast China's Heilongjiiang province, August 27, 2011.Three of the 26 miners who were trapped for about 100 hours in a flooded pit in Northeast China's Heilongjiang province were rescued and one was confirmed dead on Saturday.  [Photo/Xinhua]
QITAIHE, Heilongjiang - Three of the 26 miners who were trapped for about 100 hours in a flooded pit in Northeast China's Heilongjiang province were rescued on Saturday and one was confirmed dead on Sunday, the rescue command center said.
Three of the survivors were brought to the ground at around 6 pm and were sent to a leading hospital in Qitaihe city, where the flooded coal mine was located.
The three lucky miners, Li Xuewei, Jing Renguang and Wang Qiangping, had spent nearly 100 hours struggling to keep their heads above the surface of the flood water, rescuers said.
"When we found them, one of them said faintly that they had survived by drinking flood water, and the noise from the water pumps had been their only source of strength," a rescuer said.
On Saturday, when they felt the water level was low enough for them to move along, the three workers began to crawl in the pitch-dark shaft hoping to find rescue.
Shi Hong, vice-president of the Qitaihe hospital, said the three rescued miners were in stable condition, though one of them suffered injuries and subsequent infections on an arm.
"But they were all conscious and could even talk a little", said Shi.
As of 10 pm, rescuers had pumped 63,770 cubic meters of flood water from the pit, reducing water level by 11.9 meters compared with August 23, the day the disaster happened.
Forty-five miners were working in the pit of the Hengtai Coal Mining Co. in Boli county when the flood occurred. Only 19 of them managed to escape.
Investigators said the accident happened after workers mistakenly drilled into a neighboring mine.
As rescue work continued, anxious family members were waiting at the site, red-eyed from grief and lack of sleep.
A man voluntarily joined the rescuers in the drilling and pumping process. "We have to race against time to reach the victims, as there may still be hope for them to survive."
His eldest brother and a brother-in-law were trapped in the pit.
Just a few hours before the miraculous rescue, everyone was beginning to lose hope.
A woman, who claimed to be the wife of trapped miner Han Guowu, insisted on entering the pit herself. "Are you trying to save them seriously?" she demanded.
The fact that the ill-fated mine was under illegal operation made the victims' family members furious.
The mine, with an annual output of 30,000 tonnes, should have stopped production and been integrated into a larger mine in 2007, in the country's move to close down small collieries to improve safety and efficiency in the mining industry.
The mine owner, however, restarted production without permission on August 16, exactly a week before the flood.
The map of the pit provided by the mine owner was also flawed, making rescue work even more difficult.