CHICAGO -- Over 50 Chinese companies signed 28 trade and investment contracts worth about US$5.7 billion with US firms on Tuesday at the end of the China-US Trade and Investment Cooperation Forum.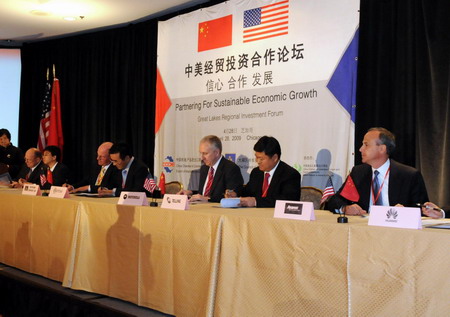 The signing ceremony for trade and investment contracts between China and the US at the end of the China-US Trade and Investment Cooperation Forum, on April 28, 2009. [Xinhua]
The deals covering mainly the machinery, electronic products and green energy technology will help gain trade balance between the two countries, said a spokeswoman of the visiting Chinese delegation led by Chinese Commerce Minister Chen Deming.
Related readings:


 US, China vow to fight protectionism


 China, US vow to strengthen trade ties


 China, US firms sign over $10b deals

 US firms upbeat about China
These deals will also help upgrade the technology and the value of Chinese products since the Chinese companies are importing US high-tech products and investing in the fields of green energy, she said.
"The economic recession is affecting both countries, and these deals come at a critical time and will help both countries get out of the difficult time," an official of Illinois State government told Xinhua during the forum.  
He said a stronger commercial bonds between the United States and China will also help world economy to go up quickly.
Speaking at the forum, the visiting Chinese minister said "we will continue to encourage Chinese companies to import more from the United States, and we will also welcome US companies and trade-promotion agencies to be more active in China."
He expressed the hope that the two sides will work more closely to strengthen economic ties between the two countries and make joint efforts to weather the current economic crisis.