WASHINGTON: Protectionism is not the answer to tough economic times, top trade officials agreed on Tuesday.
"History tells us that openness and cooperation are all the more important amid a crisis," Commerce Minister Chen Deming said Monday at the US-China Trade and Investment Cooperation Forum, where he reached consensus on important issues with US Secretary of Commerce Gary Locke.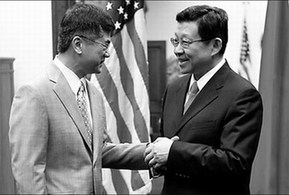 US Secretary of Commerce Gary Locke (left) greets visiting Chinese Commerce Minister Chen Deming in Washington on Monday.  [Agencies]
"We agreed on strengthening our cooperation on trade and fighting protectionism," Chen said after the forum.
He told US businesspeople that the Chinese government isn't pursuing a large trade surplus. Chen asked the US to create an environment that would encourage Chinese firms to buy more from the US.
Three Chinese trade missions have signed 32 deals with US companies, worth more than $10 billion, according to the US Chamber of Commerce.
The three Chinese trade delegations include large State-owned enterprises and private corporations in mechanical and electronic engineering, light industry and investment. They are traveling in 14 states, looking for opportunities for trade and investment.
The two countries are exploring possibilities for cooperation in small business, environmental protection, high technology and energy conservation.
Chen asked the Obama administration to abide by the authorization of the Doha Round under the World Trade Organization framework.
Related readings:


 China, US firms sign over $10b deals


 Experts: Overseas M&A deals may slow this year


 ASEAN to sign investment deals with China, S Korea


 Trade team heads to US for new deals
"The Doha Round should not start from scratch," Chen said, asking the US to reexamine the achievements. "It is understandable that it takes a little bit of time for the new administration to be familiar with the situation."
Chen is the first Chinese cabinet member to visit the US after President Hu Jintao met with US President Barack Obama in London earlier this month. Chen's visit shows that China and the US have put their economic relations on top of the agenda since the economic meltdown.
It is an opportunity for Chen to acquaint himself with his US counterpart Locke and US Trade Representative Ron Kirk. Both of the US officials took office last month.
Locke and Energy Secretary Steven Chu, two Chinese Americans in Obama's cabinet, are expected to visit China in September. Locke said he may be accompanied by a large US delegation.
"Economic and trade relations between China and the US are a very important basis for bilateral ties," Chen said. "Despite cases of trade friction amid the economic crisis, the two counties should prevent protectionism from raising its ugly head."
While China turns to high-profile channels to communicate with the US, it is prepared to protect the interests of its companies.
"China will resort to the World Trade Organization if the US takes unfair actions against Chinese companies," Chen said.
The US International Trade Commission on Thursday approved anti-dumping duties ranging from 74 to 101 percent on welded steel line pipe from China that it said was sold at unfairly low prices.