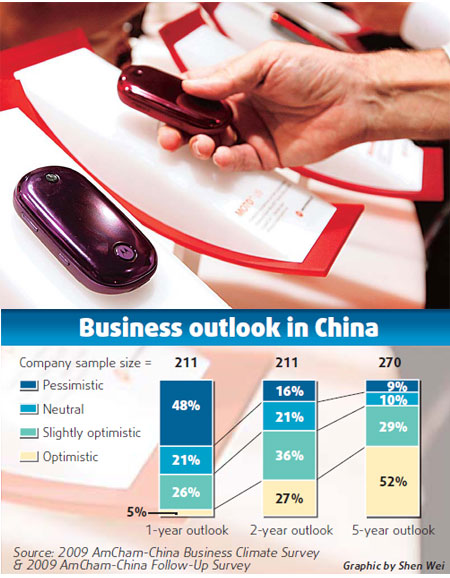 US companies in China remain committed to, and highly optimistic about, the long-term prospects of the domestic economy, the 2009 White Paper on the state of American business in China, released yesterday by the American Chamber of Commerce (AmCham), showed.
The country was still a top investment priority for American businesses, the paper said. According to a survey carried out by AmCham, 22 percent of its members said China was their No 1 global investment destination. Between 75 and 78 percent have ranked the country as a top-three investment destination every year since 2004.
Although the outlook for 2009 was considerably less optimistic than responses in recent years, US firms consistently reported being profitable in China. For 2008, 74 percent of members reported being "profitable" or "very profitable", according to the White Paper.
Related readings:


 Majority of US firms report profits in China


 Chinese technology benefits US firm


 US business community calls for lift of export control to China
The survey also found that US firms were still confident about their long-term growth prospects in China. Although nearly half of the companies said they were pessimistic about this year's outlook, 63 percent were optimistic about their two-year outlook and over 80 percent were upbeat about five-year prospects.
These trends indicated that the vast majority of US firms here were focused on market opportunities within the country, the paper said.
Almost two-thirds of members indicated they were in China to produce or source goods and services for the Chinese market, rather than for exports. "This number represents a significant increase from 51 percent in 2008, and that shows that most American businesses are for here the Chinese market," said John D Watkins Jr, AmCham-China Chairman.
In addition, two-thirds of US companies in China expected to directly or indirectly benefit from the country's 4-trillion-yuan stimulus package, according to Watkins.
Although the financial crisis has curbed credit flow, over 60 percent of American businesses have not changed their investment plans for the country, while 37 percent were postponing investments and only 2 percent canceling projects in China.
In 2008, the US trade deficit with China touched $266 billion, marking a record high. The White Paper said the value of the yuan was not the primary cause of the US trade deficit with China, and the US should not expect yuan appreciation to have a large impact on its trade imbalance with China.
Instead, it suggested that the US government should improve the trade balance by trade and export promotion efforts, including revised export control policies and improving the environment for Chinese outbound investment.
The US must aggressively enhance its competitiveness in capturing more market share in China, encourage Chinese outbound investment to America, and enact policies and programs to promote US products and exports, the paper said.
Controlling technologies that are widely available would not serve America's national security interests, and would instead hurt its economic competitiveness, according to Watkins.
"Overly restrictive and sometimes ambiguous export controls have caused material damage to US businesses," the paper said, "and the perception that these regulations are actually protectionism can lead to retaliatory trade measures or trade disputes."
The paper suggested that both Chinese and the US governments should strengthen their commitment to anti-protectionism and market access, and avoid policies that overly emphasized short-term political and economic goals at the expense of medium- and long-term economic growth.