BEIJING - Chinese President Hu Jintao on Saturday paid visits to renowned space scientist Qian Xuesen and mathematician Wu Wenjun, extending festival greetings and showing gratitude for their contributions to the country's scientific cause.
Hu, also general secretary of the Communist Party of China (CPC) Central Committee, shook hands with 97-year-old Qian and presented him a floral basket at the home of the scientist.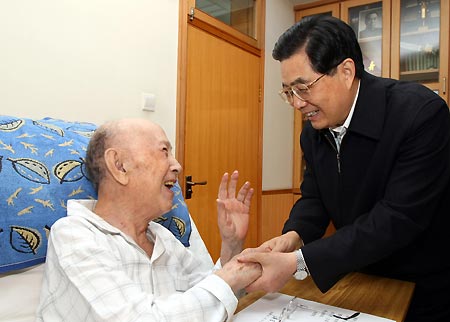 Chinese President Hu Jintao (R) visits renowned scientist and founder of China's space technology Qian Xuesen in Beijing Jan 19, 2008. [Agencies]
Hu said the Chinese people and the CPC would never forget the remarkable contribution Qian had made to China's economic and technological development and the national defence industry.
Qian, founder of China's space technology, returned to China from overseas study shortly after the New China was founded in 1949. He overcame many difficulties and resistance that prevented him from returning home, Hu said.
He said Qian had made remarkable contribution to China's space industry, including the country's first nuclear and hydrogen bombs and manmade satellite.
Qian told the president that he only encountered "appropriate opportunities" (to make the contribution).
The president praised the senior scientist for his efforts in fostering young and smart students, some of whom had become pillars of the country's technological and scientific development.
Hu said he himself had greatly benefited from Qian's academic achievement. "When I studied at the Party School of the CPC Central Committee in the early 1980s, I learned your theories," the president said.
During the 1980s, Qian advocated the development of sand industry in deserts where distinctive natural conditions could be made good use of. The scientist supported the development of the industry by donating his own money.
Hu told the scientist he found out that the sand industry in North China's Inner Mongolia, where deserts had become sources of sandy winds in Spring, was prosperous during his recent trip to the region.
"Sandy plant industry has developed well, helping to recover the ecology and raise people's life standard," Hu said.
Qian was very happy to see the country's great change such as the construction of the Qinghai-Tibet railway.
Qian, a member of both the Chinese Academy of Sciences and the Chinese Academy of Engineering, graduated from Shanghai Communications University in 1934.
In 1935, he went to study in the aviation department of the Massachusetts Institute of Technology and later studied aviation engineering at the California Institute of Technology. In 1939, he received a doctorate in aviation and mathematics.