Chinese Premier Wen Jiabao began talks with visiting British Prime Minister Gordon Brown in Beijing Friday morning at the Great Hall of the People, reaching a host of agreements on bilateral cooperation on economic, finance, education, Olympics and other matters.

Britain's PM open to China investments
British Prime Minister Gordon Brown told China that he wanted Britain to be the number one choice for Chinese trade and investment.

 BP signs clean energy deal with China


 Britain opposes Taiwan's UN bid


 Britain launches largest festival of Chinese culture


 Made-in-China goods add color, wealth to Britain


 Brown's visit boosts China-UK relations
The two leaders agreed to expand trade to a value of US$60 billion by 2010, compared with about US$40 billion last year, as they watched the signing of agreements on education cooperation, climate change, sustainable cities and several involving BP and clean energy development.
"Britain will welcome substantial new investment from China in our country in the years to come," Brown told a news conference alongside Premier Wen Jiabao. 
"I believe by 2010 we will see 100 new Chinese companies investing in the UK, we will see 100 partnerships between our universities and Chinese universities and we will double the number of firms listed on the London Stock Exchange and thousands of jobs will be created," Brown said, adding that he welcomed investment from Beijing's huge sovereign wealth fund.
"We are now able to sell to China not just financial and business services and environmental technologies, but also a whole range of British brands that are now becoming very popular among the rising number of Chinese consumers.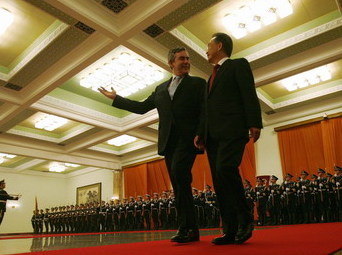 British Prime Minister Gordon Brown (C) talks with Chinese Premier Wen Jiabao (R) after they inspected the honour guard during the official welcome ceremony at the Great Hall of the People in Beijing January 18, 2008. [Agencies]
"...We are moving our partnership with China to a higher level."
Brown said he was pleased to be in Beijing meeting Chinese leaders so that the two countries could enhance the strategic partnership on all major issues.
He also congratulated the Chinese government on its tremendous economic success and being host of the Olympic Games in Beijing.
"This year is going to be an incredibly successful year for both the Chinese economy and China as the host of Olympic Games," he said.
Premier Wen Jiaobao said it was a good omen that Brown arrived a day after the year's first snowfall in the capital.
"China has an old saying that snow augurs a successful year, and this symbolizes a fresh start in Sino-British relations in the new year and even greater development," he said.
Wen highlighted Sino-British relation, saying that the bilateral ties were enjoying their best period in history.
The two nations have increased mutual trust in politics, expanded areas of economic cooperation, conducted active cultural exchanges, and maintained close coordination in international and regional affairs, Wen told Brown.
The visiting British Prime Minister also met Chinese President Hu Jintao, who called for more Sino-British exchanges and cooperation during their meeting.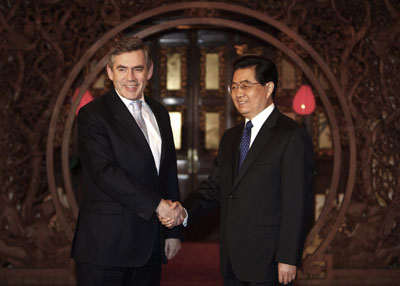 China's President Hu Jintao (R) greets Britain's Prime Minister Gordon Brown at Diaoyutai state guest house in Beijing January 18, 2008. [Agencies]
Hu said both China and Britain shoulder important responsibilities in maintaining world peace and promoting mutual development. China and Britain need to enhance cooperation taking into consideration international political and economic pattern in the 21st century.
"The Sino-British exchanges and cooperation conform to the trend of globalization and the self-development of the two countries, and China has always been handling Sino-British relations from a strategic and global perspective," Hu said.
Hu Jintao also pointed to the strengthening of strategic mutual trust, the expansion of concrete cooperation, and the increasingly close communication and coordination in addressing international and regional affairs.
"I believe as long as both sides look into the future and make unremitting efforts, China and Britain will certainly be able to transcend the differences in historical traditions, social systems, and economic development levels, and forge a comprehensive strategic partnership to benefit Chinese and British people and people from all over the world," Hu said.