Hefei -- Amid widespread concern, China started Chunyun, or Spring Festival transportation on Friday, five days ahead of schedule.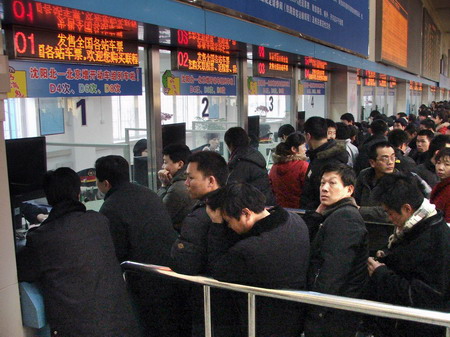 Railway travelers line up at the ticket office at Shenyang North Station in Shenyang, Liaoning Province, January 17, 2008.  [Xinhua]
"Safety is the paramount issue in our work for Chunyun this year," said Wang Yongping, spokesman with the Ministry of Railways.
China's Chunyun, hailed as the "greatest human migration on the planet", is an annually hot topic. It became hotter this year after the death of a college student who was shoved off the platform at a railway station in East China's Anhui province and killed by a train.
The tragedy occurred at about 4:55 pm on Sunday when Leng Jing, a junior student from the Anhui Normal University, was waiting with more than 600 other passengers at Wuhu railway station.
Passengers flooded to the train, No.5082, before it fully stopped, when someone screamed "there is a person under the train".
"I squatted, only to find a long-haired girl in red lying on the rails," recalled a witness surnamed Ma.
Wu Tisheng, vice Party secretary with the Wuhu railway section blamed snow on Sunday. "As road traffic was crippled by snow, the number of passengers taking trains surged dramatically, more than 100 of whom even managed to reach the waiting platform without tickets," he said.
Normally, passengers were allowed to mount the waiting platform only after the train pulled in and fully stopped.
"But this would cause delay to the train," Wu said, noting that it was a common practise at many railway stations of allowing passengers in before their train arrived.
The incident soon appeared on many websites and in newspapers, renewing people's worry over safety issues.
Traditionally an occasion for family reunion, Spring Festivals always saw a majority of the country's 150 million migrant workers joining college students in homeward odysseys.
"This is the first Chunyun after the adjustment of holidays and the golden week of May Day holiday was shortened, so it is not strange to see more passengers this year," said a Cantonese netizen anonymously on the portal website of sina.com, "we definitely need more long holidays to deluge passenger flows."
Transportation networks in many areas have experienced a record crush of travellers this year.