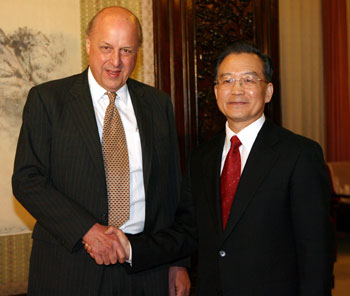 Premier Wen Jiabao meets with visiting US Deputy Secretary of State John Negroponte in Beijing Wednesday. [Xinhua]
US Deputy Secretary of State John Negroponte Thursday reiterated Washington's position on Taiwan's planned referendum on UN membership, saying it is a "mistake" and "provocative".
"From the perspective of the United States, the conduct of such a referendum is a mistake," Negroponte told reporters at the US embassy, echoing comments made by Secretary of State Condoleezza Rice late last month.
Related readings:



 US official: Taiwan's referendum is mistake, provocation


 'Referendum' to go ahead, Chen says


 Rice: Taiwan UN referendum bid 'provocative'


 China 'values' US opposition to Taiwan referendum


 Taipei mayor rejects UN 'referendum' campaign


  'Referendum' plot based on personal interests - scholar
"We think it is a provocative policy on the part of the Taiwanese authorities," he said.
Asked what the US would do if the Taiwan authorities went ahead with the referendum, Negroponte said the issue should be looked at "step by step".
Whether there will be enough voters or whether it will be passed remains a question, he said.
"We continue to advocate that neither side take any unilateral steps to alter the status quo."
Negroponte said the US understands Taiwan is the core interest for China and takes China's concerns seriously.
"It's not something we will want to talk about a 'trade-off' with other issues."
Commenting on bilateral relations, Negroponte said the countries have worked closely together in many areas such as the Six-Party Talks and Darfur.
"Even though we don't have absolutely identical views, I think there is a good understanding of each other's positions," he said.
Analysts said Washington's repeated warnings over Taiwan's referendum plan are a sign that it is willing to use its influence to contain secessionist moves on the island.
"I think Negroponte's remarks contain the message that the United States does not think the referendum bill will necessarily pass under growing pressure from both Beijing and Washington," said Shen Dingli, director of the Center for American Studies at Shanghai's Fudan University.
The opposition Kuomintang's landslide victory in Taiwan's "legislative" election last week shows that people have become weary of the pro-independent Chen Shui-bian administration's style, and that would add to the belief that the referendum bill will fail, Shen noted.
Earlier Thursday, Negroponte met Chen Yunlin, minister of the State Council's Taiwan Affairs Office. He flew to Guiyang, Guizhou Province, in the afternoon, where he co-chaired the Fifth China-US Strategic Dialogue with Deputy Foreign Minister Dai Bingguo.
Ding Jingong, deputy head of the Foreign Affairs Office of the Ministry of National Defense, joined the dialogue along with James Shinn, US assistant secretary of defense, according to the Ministry of National Defense.
It is the first time military representatives have participated in the dialogue, which is designed for both sides to discuss major political issues in bilateral and global affairs.